Santa, or L if you want to be precise, got me a pasta maker for Christmas. Not just any pasta maker, the pasta attachment for my beloved KitchenAid machine (who's name is Anne-Sophie, by the way, named after the first female chef to ever be awarded with a Michelin star!). Mere days after Christmas I made tried making my first batch of pasta. I had researched the best pasta recipes and figured It'd be easy. An experienced cook, what can go wrong right? Wrong!
Pasta is an art. It really is. To combine just the right amount of flour, eggs and water to make a great dough which your pasta maker will accept isn't as easy as it looks. Or at least not the first time.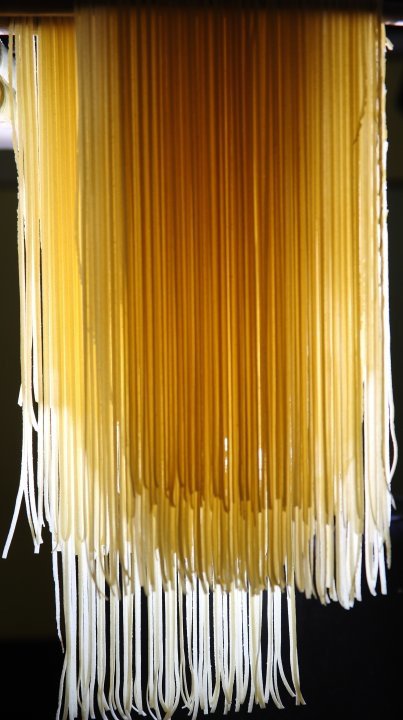 I had absolutely no idea how wet or dry the dough needed to be.
About 2 hours after I started my original batch, I tossed it in the garbage, severely annoyed. L suggested just making something else as by then he was hungry and it didn't look like dinner would be ready before noon the next day.
I couldn't give up though. My love of pasta, Anne-Sophie and cooking in general stopped me from sitting down defeated. So I tried a new batch. I tossed my carefully-written-down instructions and just gave it a try. Dinner was late that night. Very late. But in the end I produced my first batch of home made fettuccine. Along with a wonderful gorgonzola cream sauce. Crankiness and anger disappeared instantly and utter fulfillment took it's place. This was the best pasta alla gorgonzola I'd ever had.
Suffice to say after that first night I learned my lesson. Making pasta is not a science, it's not about exact measurements and the right size egg. It's about love for the food and art.
The first months after that batch in December I still measured my flour. I needed to know how much I needed for 2, or 4 or however many people were eating. I'd just add droplets of water or spoonfuls of flour to get it to the right consistency. By now, I'm done with that too. I know how big my ball of dough needs to be. I know how much water or egg to add. I know what happens if you put in an extra egg, or forget the salt. I have finally mastered the art of pasta!
Pasta, basic recipe (for 2)

About 100 grams of semolina flour (high grade Italian flour, very fine)
1 egg, beaten
As much water as needed to make a firm, yet flexible, dough
a pinch of salt

Combine everything, either by hand or in a stand mixer with dough hook, pull it through the pasta maker.If pasta falls apart in pasta machine, it's too dry. If it sticks too machine, it's too wet. Add flour or a drop of water to correct.
Boil in a large pot of salted water for about a minute and a half and eat with a very simple sauce.
One last note on fresh pasta. Don't eat it with fancy complicated sauces. Leave those for dried pasta from a package. The taste of freshly made pasta is amazing on it's own. You don't want to lose that by overpowering it with sauce.
Would you like to get in touch, please don't hesitate to contact me via

my contact form.

Latest kitchen talk

Translate this blog

but don't expect it to make perfect sense!