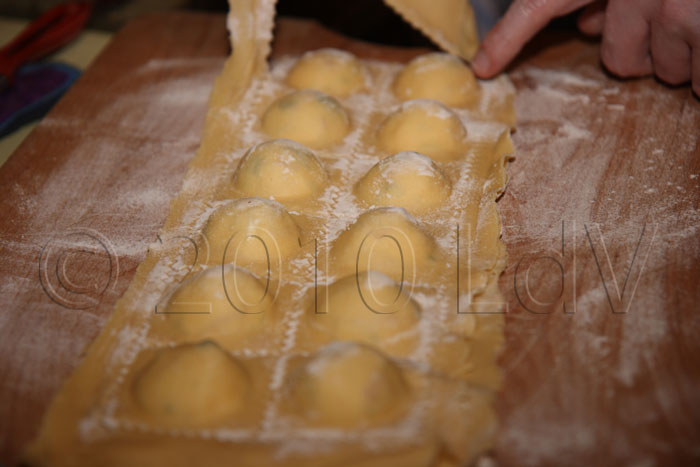 It's pasta time again. Good pasta that is! On one of my lazy days last week I did boil some dried tortellini al carne, but that was it. We usually eat fresh pasta AT LEAST once a week, but more often twice. I already explained how quick and easy it is to make once you get the hang of it, so there really isn't any excuse for not eating it often. With just the one egg, water and flour it's not fat and rich in good carbs and if you add a good sauce you might actually add your proteins, fats and/or veggies in there right away. Otherwise, that'll just be your 'secondo' or 'contorni'. (Hey! Look! I'm practicing my Italian right here in my blog!)
Back to the issue, I wanted to have good, fresh, yummy pasta again today and decided to go for a stuffed pasta. Not much harder than spaghetti or fettucini, but a nice change from the standard pasta-and-sauce thing I do so often. Since I actually have a ravioloni mold, that's the standard filled pasta I make. I mean, sure, I could shape it into tortelloni, agnolotti, pansotti or any other filled-pasta-shape you might think of, but that's 5 times the work and probably won't look as nice. Plus it'll actually taste the same. (Oh and yes, I know, I call it ravioloni, not ravioli. That's because mine are fairly large. If they're small they're ravioli – and mine definitely aren't small!)
The awesome thing about filled pasta is that you can fill them with whatever you like.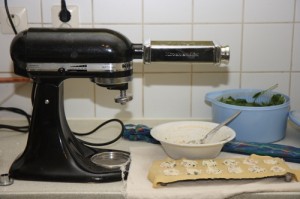 Meat, veggies, cheese, a combination, everything is possible. Just make sure the filling isn't too liquid, as that means they'll be empty if you split one in half. And make sure you don't add some super-fancy-filled sauce. That's just plain useless and wasteful as you won't taste the filling anymore. A simple butter, olive oil or tomato sauce is all you need.
My tomato sauce is awesome, and done in the time it takes to melt one ice cube in a pan with tomato sauce on the stove. It's almost cheating though, as that ice cube isn't an ice cube, but a sauce cube. Remember the tomato soup I made the other day? If you don't add the beef broth, you have a very tasty tomato sauce. You could even add some fresh or dried herbs to the vegetables while roasting to give it a little extra taste. If you make some extra sauce and let it cool, you can put it in an ice-cube-tray (or ice-cube-baggies). Put them in the freezer and voila, instant tomato sauce.
Cheater's tomato sauce

Passata di pomodori (package of plain tomato sauce)
1 or 2 sauce cubes

Pour the amount of passata you need into a pan. Put the pan on the stove, add 1 or 2 sauce cubes to the passata. (Adjust the amount of sauce cubes to your tast and the amount of passata used.) Stir occasionaly. When the sauce cube is melted and the sauce is warm enough, your amazingly tasty simple tomato sauce is done.
Now ravioloni alla Napoletana is a classic dish. It's one of the simplest, but tastiest types of pasta. You rarely see them in the grocery store though, and I have no clue why. How can you go wrong with ham and cheese filled pasta? The Silver Spoon recommends serving them with tomato sauce, which is exactly what we've done here. The mozzarella I didn't use for the filling, went nicely in our arugula and tomato salad, which we ate, with a steak, as secondo. The only alteration I made tonight was using basil instead of parsley, as that's what I had available.
Ravioloni alla Napoletana (recipe for 6, from the Silver Spoon)

300 grams of flour (semolina preferred)
4 eggs, beaten
salt
100 grams of ricotta
1 tablespoon fresh parsley (chopped)
100 grams Parmezan cheese, grated
100 grams cooked ham, cubed
100 gram mozzarella cubed

Now I'm going to be mean about the cheeses: Use the REAL stuff!!! Mozzarella is a fresh white cheese stored in water, Parmezan's real name is Parmigiano Reggiano. Using the real stuff makes all the difference between it being really awesome or just not crappy!

Make your pasta dough from the 300 grams of flour and 3 beaten eggs. Depending on the size of the egg you might want to add water by the droplet. Lay the dough to rest in a moist tea towel while you make the filling. Put the ricotta in a bowl and beat it 'til it's smooth, then stir in the other ingredients, 1 beaten egg, mozarella, ham, parmigiano and parsley. Don't add salt, the cheeses (and ham) make it salty enough!
Grab your pasta dough and using a pasta machine of a plain old rolling pin, roll the pasta into a long thin sheet (I go to size 5 on my machine). Prepare your ravioloni mold by dusting it with flour to prevent dough from sticking. Drape a pasta sheet over your ravioloni mold and using your fingers press the dough into the openings so you get little pasta bowls. Put some filling in every hole, drape  a second sheet over the filled holes and press the two sheets together using a rolling pin. Turn the mold over onto a cutting board or plate and separate the ravioloni. Repeat until you're out of dough or filling. Boil in a large pot of salted water for about 12 to 15 minutes. (Filled pasta takes way longer to cook and you'll want to make sure the egg in the filling is cooked and the cheeses are nice and soft.)
!! If you don't have a ravioli or ravioloni mold, don't worry. Just lay one sheet of pasta on a cutting board, put little heaps of filling on top, put another sheet of pasta on top, press down between the filling to attach the pasta sheets and cut. Or make tortellini or agnolotti by cutting squares or circles out of the dough; put filling on there; fold over the dough and shape it into the desire shape to close the pasta.
Would you like to get in touch, please don't hesitate to contact me via

my contact form.

Latest kitchen talk

Translate this blog

but don't expect it to make perfect sense!