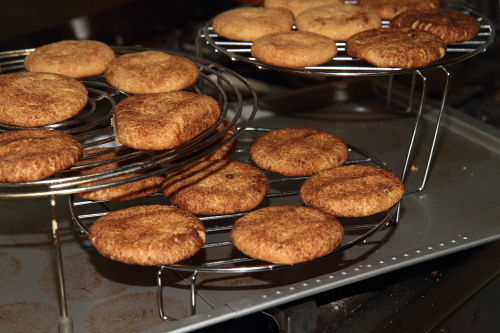 This whole food blogging thing seems to heavily increase the geekery in my home. Not only do I feel the need to cook or bake something worth blogging more often, L can obsess about taking the perfect picture. While I, after working and cooking am hungry for dinner, he'll have our dinner cool off quite a bit just so we'll have a great picture to show. Not that food is the only thing he obsesses about to photograph. This afternoon we spent at least half an hour moving a snail back and forth so it's could be photographed just right. At some point the snail actually decided it'd had enough and went back into his house to not show himself again for several hours. Geekery. Yes, it is very much present in our home.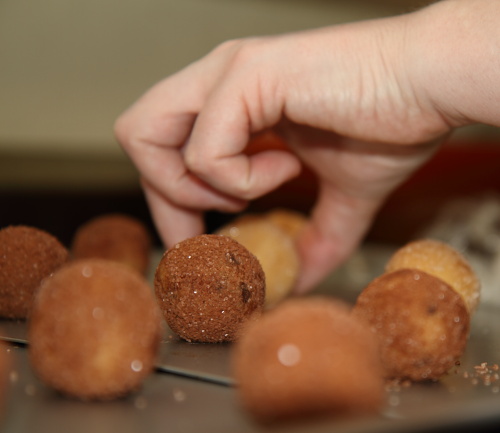 While L obsesses about what to photograph next, I go around thinking of what to cook next. If non photographer/foodie people would hear our discussions, they'd probably think we were quite nutty.
So tonight, for some odd reason, I had a craving for fresh baked cookies? I don't get that often, and usually a store bough cookie or a piece of chocolate will suffice, but sometimes, just sometimes, I'll need to start baking. I can't help myself. I guess once you're a foodie, a cook, a baker, someone who loves to be in the kitchen, you sometimes just have to bake or make something. No matter whether you're hungry, no matter whether it's the appropriate time, you just need to make something. I guess it's kind of amazing that L is as skinny as he is, since he rarely passes the opportunity to eat whatever I've made. And to take photos of it.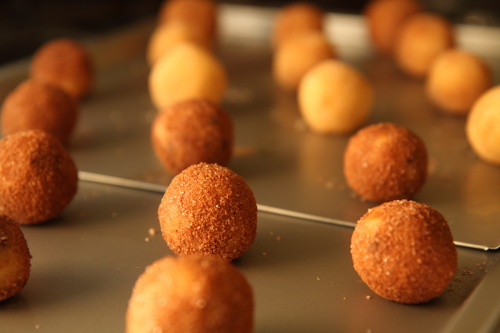 I couldn't decide whether I wanted something like a snickerdoodle, or something chocolaty, so I opted to make half a batch of both. I tweaked a pretty standard sugar-cookie recipe, divided it and just over an hour later (how I hate the waiting time with dough) we ate wonderful warm cookies. IF that isn't a great desert, I don't know what is!!!
Cookies (recipe yields about 18 medium sized cookies)

1/2 cup butter
1 cup sugar
1/4 tsp baking soda
1/4 tsp cream of tartar
1 egg
1/2 tsp vanilla extract
1 1/2 cups plain white flour
chocolate chips
cocoa powder
ground cinamon
some more sugar

Cream the butter, sugar, and egg in  a mixing bowl, add the baking soda and cream of tartar and the vanilla extract. When it's all blended well, add the flour, mix on slow until everything is incorporated. Divide in half and wrap one half in cling film and store it in the fridge. Add chocolate chips (not too much) to the other half, stir them in so they're well mixed through the entire dough, then wrap that dough in cling film and place it in the fridge as well.
Wait an hour. (yes I know, it's hard, deal with it!)
When the dough has rested in the fridge for an hour or longer, prepare the coating. In one bowl mix some sugar and cocoa powder, in another mix sugar and good quality ground cinnamon.
Take the dough from the fridge and roll smallish balls from the dough. Roll the chocolate chip dough balls through the cocoa mixture to coat them on all sides and place them on a cookie sheet. Wash your hands before you start on the non-chocolate dough (to prevent chocolate getting on there) then roll the non-chocolate dough balls through the sugar/cinnamon mix until they're fully coated. Place those on the cookie sheet as well.
Using 2 fingers push the chocolate cookies down so that they've doubled in width, using one finger push the snickerdoodles (cinnamon cookies) down just a little, just to flatten the bottom, not even half as much as the chocolate ones.
Place the cookie sheet in a pre-heated oven (190 degrees celsius) and check after about 10 minutes. When the sides are golden (hard to see due to cinnamon, but if you touch them they aren't completely soft, but not rock hard yet either) take them from the oven and place them on a cooling rack. As soon as they're not burning your tongue off, have your first cookie!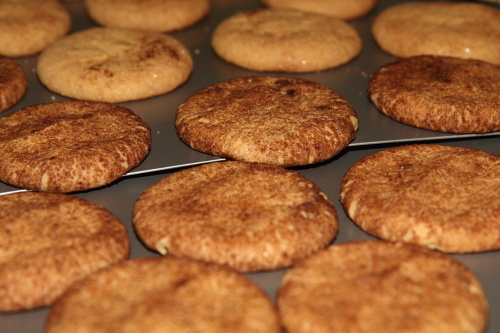 The fresh and warm cookies are wonderful and soft. Once they've cooled down, they'll get crispy inside. I personally love both styles, so I'll eat the warm soft cookies first and then just eat crispier cookies later. If you don't like crispy-ish cookies, just take them out of the oven sooner! These chocolate cookies don't really resemble regular chocolate chip cookies, their texture is a little different. But be sure to give them a try, they are really really good!