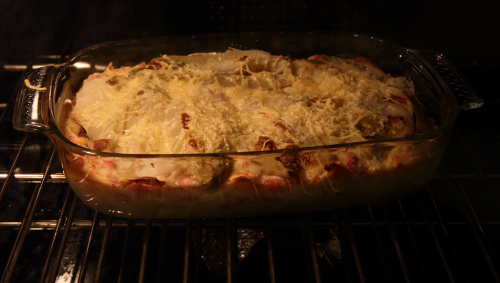 The weather has been sucky here the last week. While the last week of April had sunny, warm days, May so far has been dark and dreary. Perfect weather for chicory. Yes, I know, in other parts of the world chicory might not necessarily be a winter vegetable, and is used in salads and such, to me it's a winter dish. Probably because of the way I prepare it.
The way I prepare chicory is derived from the way my mom does. She'd usually serve it, boiled, then rolled into slices of ham with cheese on top, from the oven. She'd usually serve boiled potatoes and some kind of meat and gravy with it. I've served it that way before, but during my single years it's evolved to an all-in-one oven dish. A casserole without side dishes. I don't have one fixed recipe for it, but generally it'll be mashed potatoes, chicory, ham, cheese and egg. Add some herbs and it's done.
See, winter dish!
So with the crappy weather I figured I could make it at least once more this year. And so I did. I know it doesn't look all that appetizing, but it really, really is. I dare you to try it!
Chicory casserole

chicory (1 big one per person)
instant mashed potatoes (1 serving per person)
Grated cheese
Cubes or strips of ham (to taste)
eggs (1 per 2 servings)
Herbs to taste (I use herbes de provence)
Water

Boil the chicory for 10 to 15 minutes, drain and cool a bit. In a large bowl add the instant mashed potatoes (powder), a good amount of grated cheese (a half cup per person or so), some dried herbs, some ham (as much as you want, to taste, I don't serve meat separately, so I use quite a bit of ham) and the eggs. Stir thoroughly, so that everything is coated with the powdered potatoes. Pour in slightly less water than the mashed potatoes ask for (you want it to end up firm, and the egg, ham and cheese provide moisture as well). Stir until all the water is incorporated and you don't have dry potato powder anymore.
Put the potato, egg, cheese, ham mixture in a casserole dish. Cut the chicory lengthwise. If you have big chicory, quarter it, so the end result isn't too thick (about 2 fingers thick or so). Place the chicory over the mashed potatoes. Push in a little, so that the potato mixture sits all the way around it. Sprinkle a generous amount of grated cheese on top. Place in the oven for about 30 minutes on 350 degrees Fahrenheit (175 celsius), until everything's hot, the potatoes have set, and the top has browned to taste. Enjoy!!!
Would you like to get in touch, please don't hesitate to contact me via

my contact form.

Translate this blog

but don't expect it to make perfect sense!