I just had my lunch break. Or well, break… I just walked to my favorite deli in the neighborhood of my office. They sell the best sandwiches in the area here. Now a sandwich in Holland is something completely different from a sandwich in the US. Compared to what you'd get in the US, it's not that much. It's just bread, roll or slice, with meat, cheese or a salad on it. Maybe some butter, depending on what you're having some mustard or mayo (but only with specific meats, never with just ham or cheese) and no salad, onions, tomatoes or whatnot.
I remember my fist time visiting a deli in the US, in New York to be precise. I was probably 11, maybe 12 years old and had joined my dad on his trip to the city. He had to go to the dentist, and I just browsed around the neighborhood. Before he went to the dentist (or after he was done) we went into the deli for a sandwich. I'd told the salesperson I wanted an egg-salad-sandwich please. He proceeded to ask what I wanted on it. In all my 11 or 12-year-old innocent I replied "egg salad".
The salesguy repeated himself, and so did I. I tried to pronounce it very clearly, while looking at my dad, trying to figure out if I pronounced something wrong. Finally the -by then impatient and annoyed- salesperson asked/told me: "Yeah, I get the egg salad part, but what else do you want on it, lettuce, tomato, onion, mayo, ketchup… What do you want on it??!!" I politely replied: "Nothing — just egg salad on a roll please".
The sandwich I recieved resembled 8 sandwiches with too little bread. Or at least to me it did. I was extatic. This was at least a full tub of egg salad we'd buy at home. At home we'd use that amount on at least 10 sandwiches. Bow I got why he also gave me a dozen napkins. I still didn't understand why he wanted to put more stuff on there though.
In the years to follow I started to understand, or at least expect the american way of sandwich making. Even appreciate it at times.
In Holland though, it's fairly impossible to get a sandwich like in the US. Which is probably a good thing. With those kinds of sandwiches every day, I'd weigh about 800 pounds by now.
Back to my lunch. I went to 't Kuyltje. Which is an awesome awesome sandwich shop. Even more awesome is the fact that they have pastrami. Pastrami isn't very common in Holland, actually. This is a sad, sad thing, as I do love the stuff!!!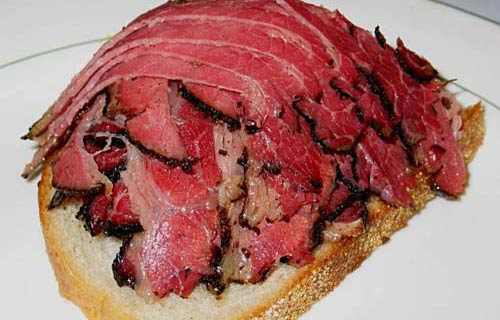 How hard would it be to make my own pastrami? Would it be doable? Has anyone done it before? Can you give me tips, or a recipe?
Would you like to get in touch, please don't hesitate to contact me via

my contact form.

Translate this blog

but don't expect it to make perfect sense!