I forgot to post my pot roast. Oh my!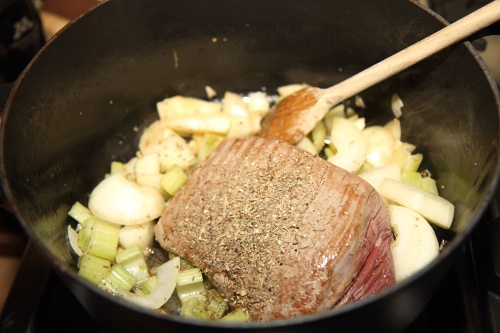 Last week, or the week before even, possibly, my local grocery store actually had nice big, beautiful chinks of beef lying around. This is something that rarely happens, or at least rarely if you don't go to the store right at the crack of dawn when they've just re-stocked.
I never go to the grocery store at the crack of dawn! I. Just. Can't! (Besides issues like having to go to the office instead of the store, I physically can't, wouldn't, EVER wake up that early if it isn't absolutely necessary.
So anyway, the grocery store had a nice chunk of beef and I bought it. I had about 10 million possible things I could do with it. Beef Wellington, roasting it in the oven, maybe even grill it. But the weather turned crappy, so I changed my mind. I figured I could, should and would make pot roast.
Since I hadn't really decided on the pot roast while in the store, I had to improvise. I always have onions and garlic, so that's no big deal. Fortunately I still had celery and carrot too, and red wine, so all in all I figured I could make something tasty. After all, if you have tasty ingredients – what's the big deal??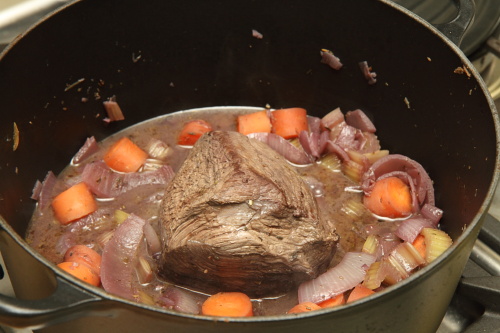 Easy-peasy pot roast

1 large piece of beef, (preferably the round)
2 onions
4 carrots
4 or 5 stalks of celery
4 cloves of garlic
1 cup of red wine
water
pepper and salt
herbes de provence
lard/butter or oil (preferably a combination of the 3!)

Melt the lard, oil and butter in a heavy pan. Chop the garlic and onion and add them to the pan. Lower your heat, so it's cooking very slowly!
Place the meat in the pan and brown it on all sides. In the mean time coarsely chop the carrots and celery and add them to the pan. After about 3 minutes pour in the red wine and some water to cover the roast about halfway. Add salt, pepper and the herbes de provence to taste. (If your roast is really thick add some low-sodium beef bouillon too, so it doesn't get too watery.)
Make sure the heat is as low as you can go, just let it simmer slowly.
Depending on the cut of beef you've got, cook it for a total of 1 to 3 hours. If it's a tender cut, an hour will be more than enough. If it's more of a stew-y cut, cook it for at least 3 hours, or longer if it isn't tender yet.
Turn the roast after about a half hour, again after about 15 minutes, then leave it until it's done for a tender cut. With a less tender cut, turn it every half an hour and just let it simmer without further disturbance.
Since I don't have a slow-cooker, I cook my roast in a heavy cast iron 5 1/2 quart Le Creuset pan. It works wonderfully! I have no idea how this needs to be altered for the slow-cooker. Maybe I'll be able to tell you that some other time, after I've added one to my wish list and received it ;)
Would you like to get in touch, please don't hesitate to contact me via

my contact form.

Latest kitchen talk

Translate this blog

but don't expect it to make perfect sense!