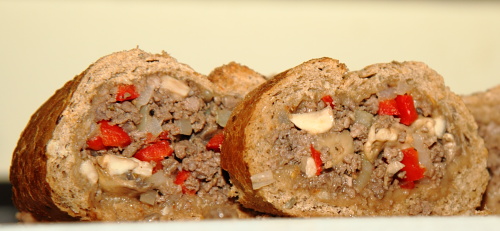 Tomorrow is election day here in Holland. Tonight is the last televised debate. Since I'm still not sure who to vote for, we're watching it. I doubt it'll help me much, but still, I like watching political debates. In Holland we have a multi-party system, which means there really are a LOT of choices that can be somewhat similar, but also have differences on specific subjects that might be very important to us as individuals, or families.
Watching tv all night meant we needed some sort of tv-dinner. Hamburgers would be good, as I had most of the ingredients. I however didn't have hamburger buns. I did have a nice loaf of bread, so I figured I'd make do with that.
Instead of making burger patties and slicing the bread, I took my nice artisan bread and removed most of the inside. I'll use that for baked french toast this weekend. I'll probably make more sweet stuff this weekend, as my dad brought me all kinds of pie making and cake decorating tools I'd ordered.
Back to dinner though. The 'empty' loaf of bread was filled with a mixture of ground beef, sweet red pepper, onion, mushrooms and some herbs and spices. It became a literal meat loaf. It looked very cute! After I baked it in the oven for a little while I could slice it, like I would slice a loaf of bread, and have these awesome pieces of beef-filled-bread.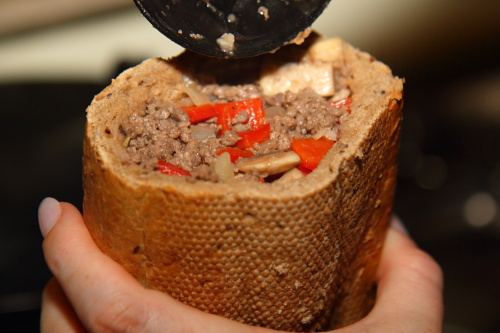 I couldn't fit all my meat-and-veggies mixture into the loaf, so we ate some separately. It was very very tasty, and easy! (And it would be great for lunch too!)
And in the mean time, we watched tv. By now I actually don't want to vote for any of these people anymore. I'm afraid that's not going to help either. I wish we could just suspend all political parties and start over. Clean slate, new possibilities, that kind of stuff. Unfortunately that's not possible and I guess I'll just go with my gut feeling tomorrow.
 

[print_this]Literal meat loaf (recipe for 2)

1 pound of ground beef
seasoning to your own taste (salt, pepper, garlic, rosemary, thyme, chili's whatever)
1 small sweet red pepper, chopped
1 medium onion, chopped
a small box of mushrooms (chopped)
olive oil
half a loaf of thick crust, whole wheat bread

Grind your beef (if you don't buy it ready ground). Mix the ground beef and the seasonings. Chop your onion, pepper and the mushrooms. Fry the meat and vegetables in about a tablespoon of olive oil, until the meat is almost/just cooked.

Cut/scoop the inside of your loaf of bread, leave the crust and a very thin layer of bread. Stuff the hollow loaf with the meat mixture. Place in a hot oven (175 degrees celsius)  on a cookie sheet for about 10 minutes.Slice the loaf and enjoy!

[/print_this]
Would you like to get in touch, please don't hesitate to contact me via

my contact form.

Latest kitchen talk

Translate this blog

but don't expect it to make perfect sense!