Did you know truffle oil doesn't, EVER contain truffles??? I saw this show last week, they try to find the origin and authenticity of store-bought products. Like when a jar of not-so-great tasting green pesto-like-stuff claims it used the authentic genovese recipe. Uhm, that doesn't contain potato powder, or cashews, or cheap filler cheeses, or palm-oil. This show doesn't judge, but the viewer does, they're only aim is to try to find out what's really in products, and make a fun show out of it. They sometimes cause a ginormous ruckus, like when they found out that 90 percent of frozen pizza's claimed they had scheese on there, but it was at least for a large part some cheese-like-chemical-product. Like a lot of grocery store cheeses in the US are, but they call themselves 'cheese product' instead of cheese. Our government actually got in action over it, passing a motion that all pizza's or other frozen products with cheese, needed to identify whether it was real or chemical cheese.
Anyways, this show, last week, was about truffle oil.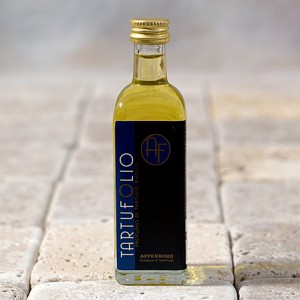 I love truffle oil. I love truffles. I just wish they weren't so dang expensive, so the oil is a good substitute. Right?… Wrong!
Yes in taste, truffle oils are perfect. The chemical make-up of the taste of truffle is apparently almost (99.9 percent) the same as that of fermented garlic.
The show called a couple of brands that sold truffle oil, and the nice phone operators all said 'there's real truffle in there, we just squeeze the truffle and add that to the oil, there's quite a lot of truffle in there, etcetera etcetera'. I guess the phone operators really can't be expected to know exactly how their products are made.
The producer was a nice, honest man though. It was a factory in Italy (I looooove when this show goes to Italian factories, for some odd reason I love Italian factories, can't help it), and the factory manager showed where the garlic was fermenting, how they extract the taste from there, and then explained that a bottle of very plain (unflavorful) olive oil would taste and smell of truffles if you'd just put a couple of drops of fermented garlic in there. The tv-guy smelled and agreed. There was real truffle there to compare.
The tv-guy asked, if this is the same for all truffle oil. The factory manager was adamant in his YES! If a producer was to use real truffles in truffle oil, a small tiny bottle, would be about 8000 Euro's. He then said that maybe there are some international producers that might scam on the olive oil, or use chemical flavorings to create the taste, but all good producers use fermented garlic for truffle oil.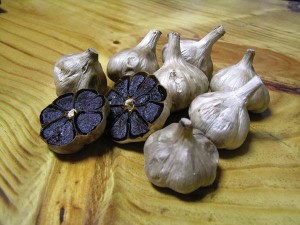 I love when I learn new stuff about food. And I still love truffle oil!
Now I haven't posted much in these last few days. We've been crazy busy here with work, household chores and social responsibilities. Not much time for both cooking AND blogging.
I did, however, make Angel Food Cupcakes. It was the first time I've ever had or made angel food cake, and a great use for the leftover egg-whites from ice cream and tiramisu. I will post about it soon!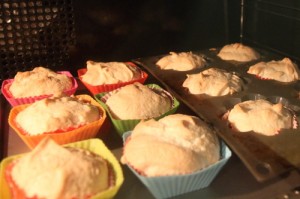 Sometime earlier this week I made fancy schmancy potatoes in the oven, with lard. They looked pretty and tasted heavenly! And you will hear about them soon-ish.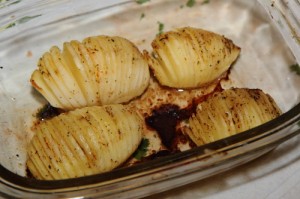 Last night after I came home from sailing – a bit later than usual – I had planned steaks, gratin dauphinoise and mushrooms. The mushrooms didn't look all that pretty anymore, so I wanted to make them into a sauce. I cooked some bacon bits (in bacon lard and a little butter), cooked some onions and carlic in there too, then added the mushrooms and in the end added a little bit of cream. It was to die for. Seriously, SO good. Restaurant worthy, really. Unfortunately for you, my dear reader(s???) by the time if was done it was almost 11pm and we were famished and it smelled so good. I didn't realize I needed a picture until about 3/4 through the meal. Sorry! Will take pictures next time!
The sauce I made for my gnocchi last week was left unattended for about a second too long. They still tasted great, but the sauce was a little dark-colored. It still resembled a nice gnocchi alla Sorrentina, so I didn't complain too much.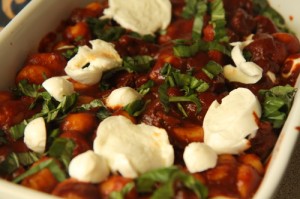 Also I used store-bought pasta for a quick meal one night, but did make the ham and pea sauce. Very simple, quick, and tasty!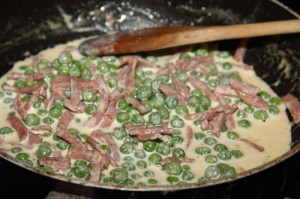 This afternoon, despite the not-too-great-weather, I'm planning to make candy bar ice cream. So stay tuned, there's a lot of great recipes coming up!