Can you believe I did not eat risotto in Milan? Milan, the Italian city/region known for it's rice. And all I ate was pasta and gnocchi, not riso or risotto. Not even once.
I wanted to, I really really did. But for some odd reason non of the restaurants we ended up at, served risotto alla Milanese. They had risotto's with fish, or with vegetables, which is all fine and good, but I wanted the most basic, tasty, awesome version there is. The original of originals. Risotto alla Milanese. So I opted out every time, figuring, oh well, tomorrow, until there was no more tomorrow.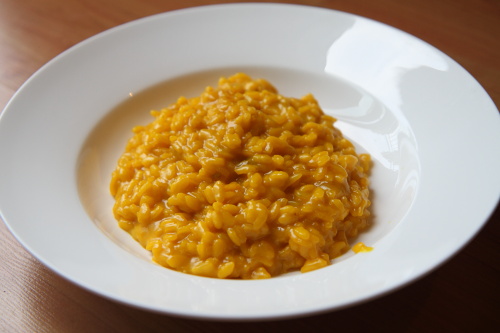 I had no clue as what to make for dinner tonight. No clue at all. Too hot, too humid, too tired to cook. Or was I. Then I recalled my craving for risotto alla Milanese. I'd looked up the recipe before, when I made my risotto with zucchini and chicken, so I knew I needed beef marrow and beef stock. I knew I still had all the other ingredients at home. So I got the marrow and the strong beef bouillon cubes (nope, no time or energy to take 4 hours to make my own) and made true Milanese style risotto.
L, being half Italian – Milanese to be specific, told me it tasted authentic.
I might not have been in Milan anymore. I might've had to make it myself. But with my lovely Cuciaio d'Argento (aka the Silver Spoon) and a few simple ingredients, I finally was able to eat this delicacy. We followed up with italian seasoned burgers and some asparagus and called it a meal ('cause that's what it was, you know!) I will now have to make it many, many times over, until we can't even stand it anymore!!!!
[print_this]Risotto alla Milanese (recipe for 4 from the Silver Spoon)

1.5 liters of stong beef broth (bouillon cube is acceptable)
20 grams of beef marrow (scoop it from a shank)
80 grams of butter
1 small onion, chopped finely
350 grams of risotto-rice (Arborio preferred)
1/2 tsp of saffron (threads or 1 tiny envelope of saffron powder)
80 parmesan
salt (optional)

Since I feel the beef broth and the cheese are salty enough, I don't like to add extra salt. Just make sure you taste, if your stock is less salty, or you use an inferior parmesan, you might want to add a little to taste.

Heat up the beef broth, in a big pan, heat up the marrow and 50 grams of the butter. Add the onion and fry on a low fire for about 5 minutes until glassy. Stir in the rice until all the grains are glossy from the butter. Pour in 1 ladle full of broth, stir until all the liquid has been taken up by the rice. Keep adding 1 ladle of broth at a time  and keep stirring until the rice is almost cooked (about 18-20 minutes). Add the saffron (if using threads soak them in a little bit of broth) just before adding the last ladle of broth. Let it cook completely, add salt if you need it, add the parmesan and the remaining butter, stir and serve immediately. The risotto should still be slightly runny (never-ever can it be a lump of rice, if so, you need more broth and slower cooking!)

[/print_this]
Would you like to get in touch, please don't hesitate to contact me via

my contact form.

Latest kitchen talk

Translate this blog

but don't expect it to make perfect sense!