The July 2010 Daring Bakers' challenge was hosted by Sunita of Sunita's world – life and food. Sunita challenged everyone to make an ice-cream filled Swiss roll that's then used to make a bombe with hot fudge. Her recipe is based on an ice cream cake recipe from Taste of Home.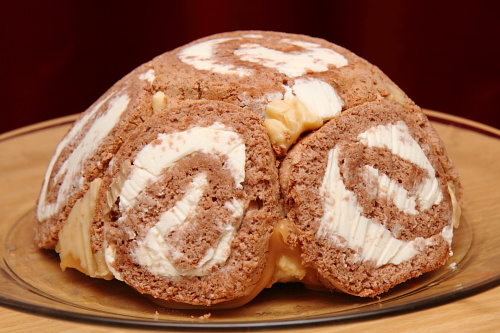 So this is the first month I participate in a daring bakers challenge. And what a challenge it was. It took me a good part of free afternoons during the entire month to finish it.
But it was worth it. Sunita gave us a great challenge and even though it really took about all of my abilities to make a not-quite-perfect product, I loved it.
So it's an ice cream cake. The top (once you plate it) is swiss rolls. I opted to make chocolate angel food cake rolls filled with whipped cream sweetened with vanilla sugar. I did the angel food cake roll because all the ice cream I'd been making resulted in a heaping amount of egg whites. That, and I discovered that I really liked the angel food cake and wanted to further experiment with it.
Going from start to finish the bombe starts with those rolls. Then I put in a layer of gelato alla nocciole – hazelnut ice cream. Following this was a layer of home-made caramel sauce, which recipe I got from Tasty Kitchen. It was very good though, in hindsight, a little runny for this cake! The final layer was coffee ice cream. I really really felt I needed to make coffee ice cream for L, and I figured coffee would tie in nicely with all these flavors.
So the challenge was to make your own swiss rolls, 2 types of ice cream and a sauce in between the ice cream layers AND make it look nice.
Well, on the outside, it looked wonderful. Or at least to me it did. On the inside, not so much.
The pictures L took for me (and the first taste of the cake) were before it'd properly frozen. I stuck to the freezing guidelines, but for some reason it didn't get fully firm. Especially the caramel sauce. So that leaked out. And some of the ice cream too. It was very tasty though, no matter what it looked like.
We couldn't finish the whole thing, even if we'd tried and skipped dinner. So I placed it back in the freezer and after it spent another 24 hours in the freezer, it was solid and way easier to distribute. It only took about 2 minutes for the caramel sauce to seep out though, so I guess that sauce might not be the best choice for this cake. It's dang tasty though.
Anyways, this was the daring bakers challenge. I had a lot of fun participating. L had a lot of fun taste-testing. The pictures on here now are the finished product. Tomorrow I'll post pictures of the different steps and recipes for ingredients I haven't shared here yet.