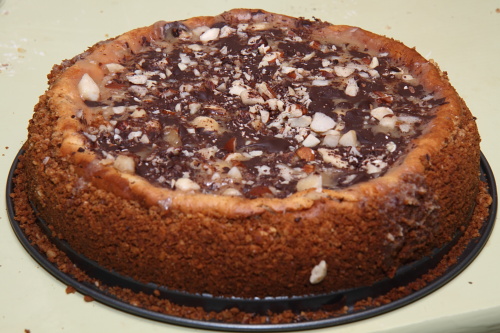 Now that I got onto the confession stand last post, I might as well keep going. And get you puzzled about the fact that I ever came to love cooking, baking and food in general so much that I even started blogging about it.
I made cheesecake for the first time in my life last week.
When it was finally finished, I ate cheesecake for the first time in my life last week.
Yes, I know, crazy right?! A 30-year-old who's never had cheesecake.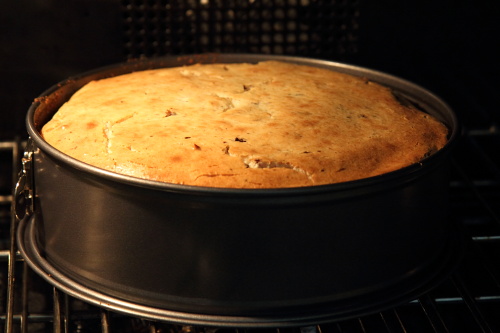 Okay, okay, I know I have some explaining to do. As you all know (hopefully) I'm Dutch. And in Holland, we have 'kwarktaart', which looks a lot like cheesecake (or so I thought) but is something completely different (which I didn't know).
Kwark is a dairy product that comes in somewhere between yoghurt and cottage cheese, but closer to the yoghurt side I would say. It's not something I enjoy. To be completely honest, there aren't many dairy products that make me very happy, unless processed. Cheese – in whatever way, shape or form is the one exception. But milk is only used in food prep or for cappuccino's, yoghurt is only used for sauces. Whipped cream, well, hey, it's whipped! Cream is again used in dishes. But besides cheese I don't use dairy products that aren't severely altered through cooking or baking.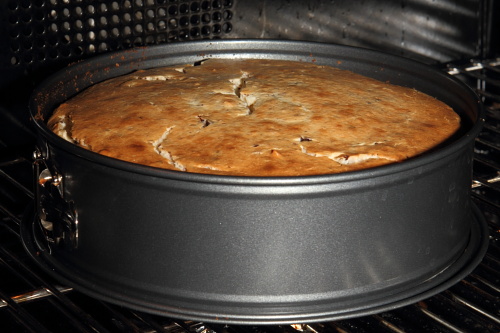 Quick fact: did you know that about 2/3 of the world's population is lactose intolerant. Being able to consume dairy products is apparently some sort of genetic defect that only 1/4 to 1/3 of the world population have. The defect historically goes back to north-western europe, which is why the defect is now spread out throughout the world and widely custom in the US too.
Back to our regular scheduled programming.
So kwark, even though in a cake it's obviously processed, is something I just don't like. Then add the fact that kwarktaart is a refrigerator cake, made with gelatin, and that the cute pink or pale orange or yellow color of the cake usually comes from chemical fruit flavorings… And then you know why I don't like it. (Not only do I dislike the chemical tastes and the gelatined-dairy, I also don't eat fruit – as you might remember.) And yes, I tried one little bite once and spit it out right then and there. Yuck! Not my thing at all!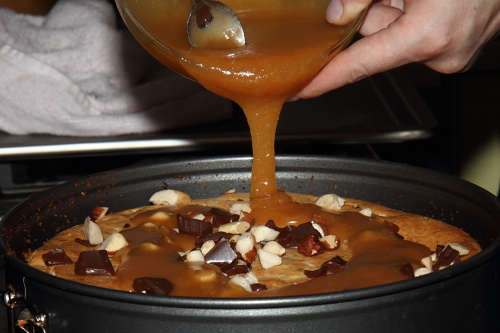 In comes my new food blogging, which comes with extensive other-food-blog-reading. And suddenly, to my utter surprise, I find that cheesecake isn't kwarktaart made with cream cheese, it's an entirely different thing. It's baked, in the oven. There's no gelatin involved, but eggs. And you can add whatever flavor you want to it!
I actually had a bunch of cream cheese in the fridge which I'd forgotten to use for a casserole and was nearing it's expiration date. So I knew what I had to do. I had to bite the bullet, and not only bake a cheesecake for the first time – I had to try it too.
The end result took many many hours. Not only the prep and bake time, but then the chill time, which took forever! In the end, it was ready to eat about half an hour after dinner. So perfect for a delayed dessert. I cut off two pieces, warning L that if I didn't like it, he'd have to take the whole dang thing to work with him the next day. Then I tried it.
It took me a few bites to get used to the texture. But it was creamy and flavored just right. It was great.
Now the recipe I followed stated that you could use any topping and/or filling or eat it plain. I doubt I would really enjoy it without the added flavors of chocolate, nuts and caramel. But with those addition. Yes, yumm!
So now half my cake is in the freezer, to prevent us eating a full sized cheesecake in 2 days.
This surely ended up being one of the better discoveries this year!
[print_this]Cheesecake with chocolate, caramel and nuts
(recipe fills 1 standard springform)

For the crust

half a package of tarwebiscuit (or graham crackers, or other dry cookies)
1/2 to 1 cup of mixed nuts (amount depends on how nutty you like it)
about 100 grams of melted butter

For the filling

500 grams of cream cheese
1 cup of sugar
3 eggs
1 heaping teaspoon of vanilla sugar
6 tablespoons sour cream
a smallish square of dark chocolate (chopped)
about half a cup of mixed nuts (chopped)

For the topping

a bigger piece of dark chocolate
another half cup (I just finished the package) mixed nuts

First make your crust. Using a food processor, crumble up the cookies and the nuts in a food processor or in a ziplock bag with a rolling pin. Melt the butter and add to the crumbs (if you're using the food processor, just zap it a couple of seconds again to mix it well. If its too dry and not at all sticking together, add a little more melted butter.)

Put the crumb mixture on the bottom of a springform pan and push it down (I used the bottom of a glass to do so). It can come up the sides, but doesn't have to.

Next start on the actual cheesecake layer. In your stand mixer combine cream cheese and sugars. Beat well until it forms a smoothe mixture. Then one-by-one add in the eggs. Keep beating, youw ant this to be smooth. Then add the sour cream and once that's beaten in set the mixer to it's slowest speed and add in the chopped nuts and chocolate (chop them fairly fine!). Pour the mixture into your springform pan and place it in a pre-heated oven of 375 degrees for about an hour. Check for done-nes (how jiggly  and brown is it), then turn off the oven, open the door and keep it standing there for a couple more minutes.

While the you're waiting for your cake to come out of the oven, grab your caramel sauce and (using the microwave) warm it up a little so it gets runny. Chop the remaining chocolate and nuts coarsely. Once the cake comes out of the oven, pour on the caramel sauce (which will seep into all cracks, yummm) and add half of the chopped nuts and chocolate on top, then pour on some more caramel sauce and the rest of the nuts and chocolate. Let it cool completely in the refrigerator for AT LEAST 2 hours). (When the chocolate on top is hard again, you may slice into the cake, not any sooner, you'll want to, but you really shouldn't. Waiting stinks, but it's worth it!) Give yourself and your loved ones a nice big piece and enjoy!

[/print_this]