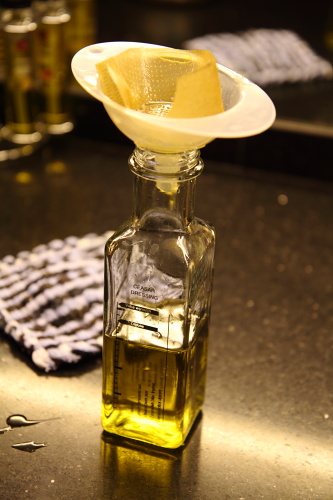 While unpacking my kitchen I found that I have 2 dressing-mixer-bottles. One fancy one with a mixer-thingie attached to the lid and all the measurements for different dressings on the side, one very plan one. It has a pouring cap and measurements for a couple of dressings, but less than the other one and no fancy mixing thingie.
This prompted 2 questions.
- Why on earth do I have 2 of these while I've only used a thing like that once? (I'm a very strict straight in the bowl dressing mixer)
- Why don't I actually use one for something useful?
I still haven't answered the first question, but the second one warranted a response. And that response was garlic oil.
Garlic oil is about the easiest thing to make, and it's absolutely wonderful to have on hand. It's hard to get good, real, pure stuff at the store for a reasonable price, so making some is a win-win-win to me.
[print_this]Garlic oil (recipe makes 1 bottle)

enough olive oil to fill the bottle you want to store it in (extra virgin preferred)
a bulb of garlic
a funnel lined with cheesecloth or coffee filter

Fill your container with plain extra virgin olive oil. Empty oil in container into a small pan. Clean the cloves of a whole bulb of garlic. Put the pan on the stove on very low heat. Make sure it doesn't come to a boil, put a simmer plate over the flames if you need it. You definitely don't want it to get gold or brown!

Let it simmer (the temperature should be around when you see tiny little bubbles floating from the bottom of the pan occasionally) for a long long time – an hour or two, until the cloves of garlic look all glassy  on the outside, and then a little longer.

Once you think it smells great and you don't see the garlic getting more glassy anymore, turn off the heat and with a little fork take out the cloves of garlic and set them aside to use in something else (they'll be all soft and wonderful to add to mashed potatoes or so).

Put the funnel over your container and line it with cheesecloth or a coffee filter. LAdle the oil in there and let it drip into your container. The garlic will have released some weird gunk after having been on the stove in the hot oil for over an hour and you want that gone.

Let the oil cool down, close the lid and use it in whatever you'd use olive oil in (when you'd like some roasted-garlic taste in there, which is – pretty much – always.)

[/print_this]
Oh, and can you see that pretty potholder by the oil-bottle in the picture on top? The dark and light blue and white one!  My lovely cousin, miss J. (10 years old) made that for us as a present for our new home. and I love it! Thanks J! big hugs from Amsterdam (and for your sister and parents too!)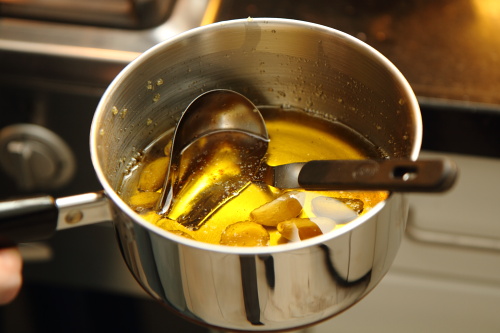 Would you like to get in touch, please don't hesitate to contact me via

my contact form.

Translate this blog

but don't expect it to make perfect sense!