"You defrosted this very well", my dad joked, when he started on his ravioli. He had seen me take a bag of ravioli from the freezer. He didn't realize I made it myself and froze it myself.
I told him and he still liked it - though he thought his joke was even funnier.
 When we made my in-laws' anniversary gift, we made quite the amount of extra ravioloni. I'd frozen them, so they could keep them, and so they wouldn't stick together. We brought them 45 pieces and I had about the same amount left.
When we invited my dad for a nice dinner, we decided on pasta first and then a steak and grilled veggies. And since I wouldn't dare to serve guests packaged pasta (I've told too many people that fresh pasta tastes so much better), I was glad I had some really nice ravioli in the freezer.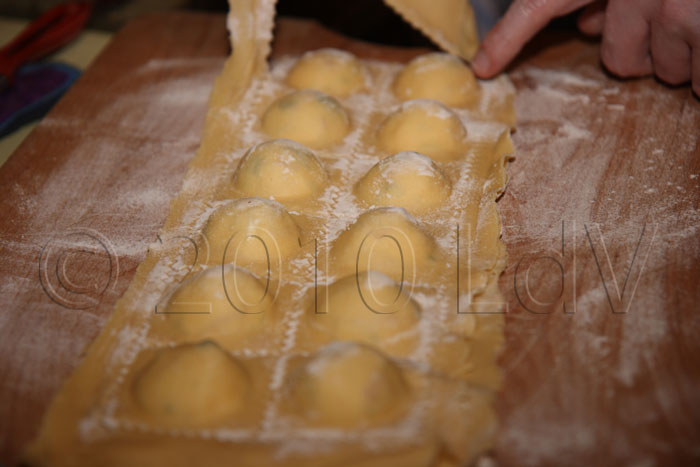 I chose to cook the napoletana, with a simple tomato sauce (a couple of cubes of frozen sauce from the soup base with some passata di pomodori).
And my dad thought I'd defrosted our dinner well.
For our secondo, the second course, we decided to grill some eggplant and steaks. The new grill that was delivered on Monday, came with a very nice, heavy cast iron griddle. I'd tried it, and it fit perfectly on the wok burner of my stove. Instead of standing outside in the slight drizzle that seems to be going on continuously this season, I decided to try out the new griddle.
The steaks had perfect grill-marks and were cooked to a perfect rare. Warm enough to be tasty, and a perfect mix of cooked outer layer and pink inside.
My dad said he was willing to pay good money for a steak like that in a restaurant.
All in all it was a nice meal!
Would you like to get in touch, please don't hesitate to contact me via

my contact form.

Latest kitchen talk

Translate this blog

but don't expect it to make perfect sense!