We closed on the new home yesterday. I'm so friggin' excited about it. We went for the inspection at 10 (and found that the sellers had left all kinds of stuff of which they consequently asked us 'you wanna have it' — uhm… no!) and then to the notary (which in Holland is a serious legal job for which you'll need to specialize for a while after attending law school) to actually close. The house became our property at 11.20 am exactly. Yes, the time is specified in the legal document. We then proceeded to sign over our life/paychecks to the bank for the next 30 years and at 11.40 am to the minute, our mortgage contract was legally signed as well.
Instead of celebrating or going back to the house, we then walked to the tram to get to our offices, where I had to rush into a meeting completely unprepared the minute I got in there. (I hadn't gotten the agenda and underlying memo's until that morning, while I wasn't at the office. I don't usually go in unprepared, I just didn't have anything…)
After work, at 7.30 pm we met up with our contractor (who happens to be a friend) to walk through what needs to be done. The sellers came by too to pick up some of the stuff they left. (There's still stuff they've left in the house, but I guess that's our property now, I now have 3 extra tv's I don't need… and some bath sponges…)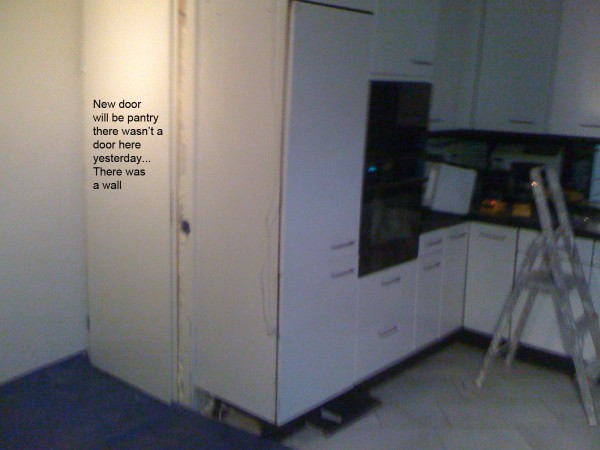 After we did the walk-through with D (our contractor) he asked when we wanted him to start. We joked and said, well, tomorrow, or yesterday, why aren't you finished yet. D responded with "sure, we'll start tomorrow" which totally surprised us, but made us very happy.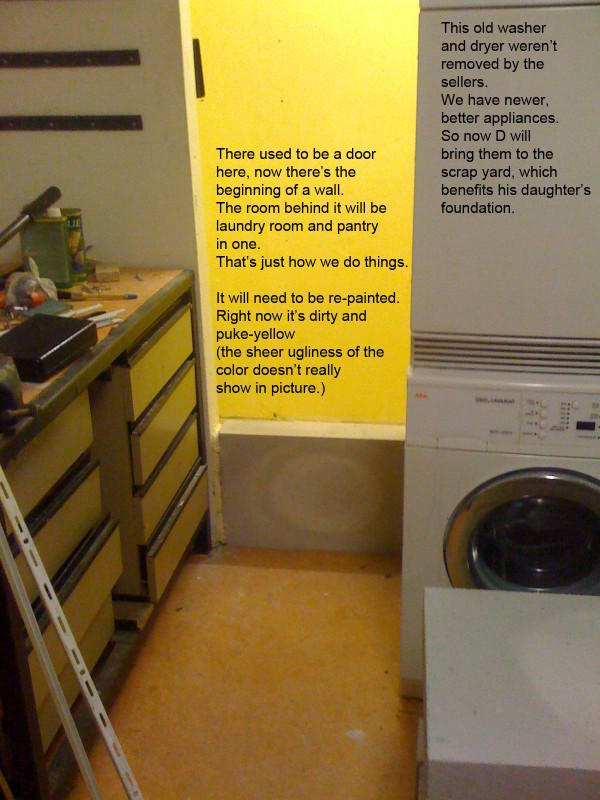 Today after work we decided to stop by the house to look at it. We didn't expect to see any progress. We figured they might've just put some stuff in the house which they'd work with later. We figured they'd needed to go shopping first, or do whatever. We really had no idea what to expect, but we surely didn't expect to see a wall broken through and a door placed instead and another door taken our and the beginnings of it being closed off. WOW, they sure made progress.
I was very sad that I didn't bring my camera. Now I not only didn't have before pictures, but I'd miss the in-between-pictures too. So L took 2 pictures with his iPhone. Thank goodness for him being the geek he is, he makes me very happy!!!