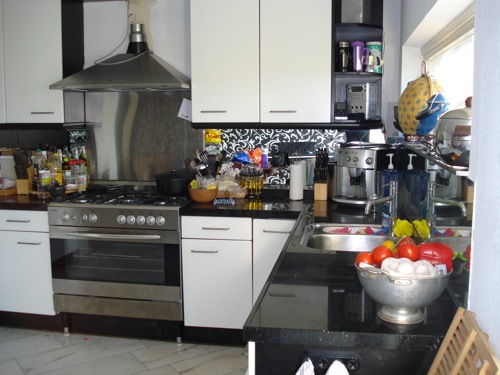 As I'm writing this I sit at my kitchen table, in my new kitchen, with a stew cooking on the stove behind me. It's wonderful.
Thursday was moving day. At 8am the movers arrived at our old house and after a cup of coffee they started loading our 120 boxes and some loose things and furniture.
Around 2 pm all our boxes were unloaded and we (and the movers) were sitting in our new backyard to rest a bit.
the move went super-smooth. At some point we started helping a tiny bit, but not even that much. IT was mostly us standing on different floors telling them 'this goes there'.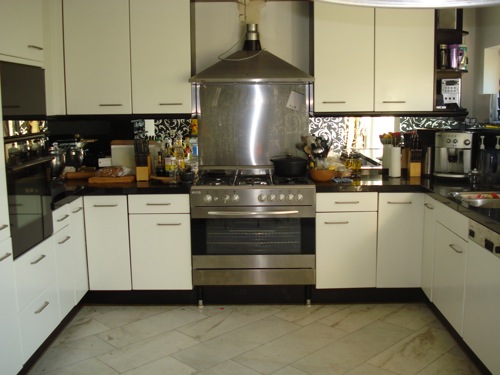 The first thing I started unpacking, was the kitchen. At the same time L started working on computer and media stuff, so we could sit down and watch tv later that night. I got about half the boxes unpacked that evening and after that I just couldn't do things anymore. I sat down on the couch, L joined me and we had a drink and watched some tv.
Saturday morning I went on unpacking the kitchen and started giving things more final places. It all worked out. Every cupboard is filled now. There aren't any empty ones left (even though this kitchen is way bigger than my old kitchen) but that's okay. Everything is nicely spaced out. No more lifting a stack of bowls and plates to get to that thing you need. Eventually we're planning on buying a nice, old-fashioned, cabinet, in which we'll have room for some more stuff. Also, later this week (probably) we'll put shelves up in the pantry/laundry room we created, which means my stock-supplies move there and suddenly I should have some spare room in the cupboards.
I love love love my new kitchen. It's just so spacious and nice. There's room to move around. We can both stand there and walk around without bumping into one another. We don't have to ask each other to scoot over to make it past the dishwasher. It's just great.
While I was finishing the kitchen, L finished the bookcases. We have half a wall in our living room filled with bookcases. He even unpacked, sorted and placed the books already. Next Saturday my late grandma's antique cabinet will arrive and moves into the living room as well and then we'll be able to completely finish unpacking/decorating that room as well.
Then there's our bedroom. That still needs a lot of work. We did put the shelves into the walk-in-closet today and I started unpacking the boxes of clothes. However, I just discovered I don't have enough hangers, so I quit that and started cooking instead.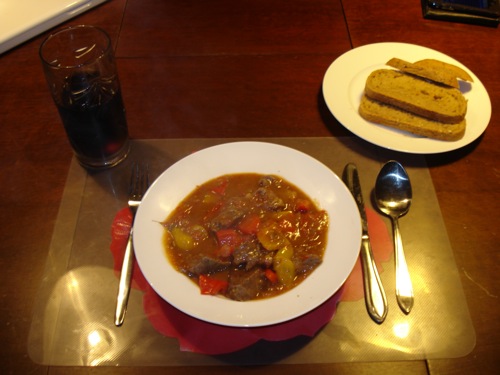 I love, love, love that I get to cook again. Since the reunion dinner, I hadn't really done much cooking anymore. At least no chopping and adding tons of different fresh ingredients. With the closing on the house and then packing and moving, we just ordered in or got microwave meals. I made the occasional simple dish, like the chicken adobo, but that didn't involve that much chopping either. I'll tell you though, I really missed it!
So tonight, I'm making a stew. It's fairly simple, but has tons of fresh veggies and a nice chunk of meat (which will be cut up after cooking. And I'll set the table, with actual place mats and such and we'll have the first fresh-cooked dinner in our new house.
It'll be wonderful!