The Cook
What happens when you put a food-geek and a computer-geek in one house? At some point a food-blog will emerge!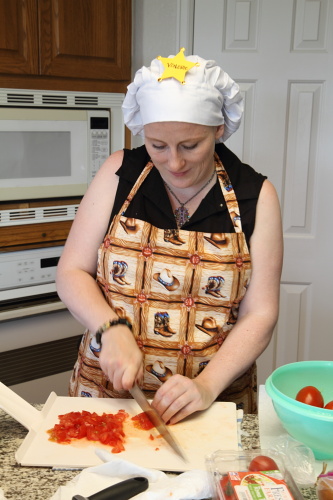 Food is passion, it's art, it can be even be spiritual or sometimes possess magical healing powers. Chicken soup when you're sick, chocolate when you're down, home-made pasta when you're happy and want to stay that way.
Before I started this blog, I frequently posted my food-endeavors on facebook. The first biscuits I ever made appeared there and made me wish smells could transfer through a computer screen. Strings of freshly made angel-hair pasta or the mere message that pork ribs were marinating, made people invite themselves over to dinner.
Shortly after I started posting pictures (taken by Laurens -the computer and photo-geek in this house- after I took things out of the oven, or presented them on a plate) my dear friend Amber suggested that we should put together a cookbook. Filled with my recipes and Laurens' pictures it would surely be amazing. Or so she hoped.
A cookbook might be a little far-fetched. More so because I tend to borrow other peoples recipes quite often and even though an un-altered recipe rarely makes it, it seems unfair to publish those recipes as my own. A food blog however -to me- is a whole different story.
So here I go. About 5 years after registering this domain and many years after I started cooking, I combined the two. A food blog. For all of you who are interested in what I'm cooking and those of you looking for inspiration at dinnertime. But be warned. I'm opinionated and headstrong about everything, including food and cooking. I'll tell you the way I think things should be, after all this is my blog. Oh, and I'm a complete lover of all-things-carbs, so if you're scared of them, you better not enter my kitchen!
[contact-form 1 "Contact form 1"]
Would you like to get in touch, please don't hesitate to contact me via

my contact form.

Translate this blog

but don't expect it to make perfect sense!