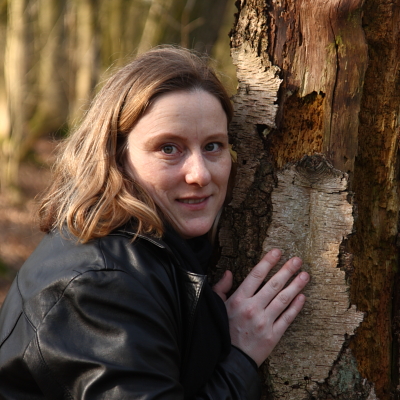 Outside the kitchen
So who am I when I'm not in the kitchen, you may ask.
Valerie (1979) lives in Amsterdam with Laurens in a reasonably sized apartment crowded with stuff family home in a nice suburban neighborhood. Between his computer and book-collections, her kitchen, shoe and (cook)book-collections and a big-screen tv, there wasn't much room for anything else. And that's why they moved to a large home that fits all their stuff. Besides cooking, Valerie's favorite past-times include reading (though she only does that in public transport, in the bathtub or when sick), riding horses (only when it happens to be sunny on a weekend), watching tv while hanging out with Laurens, and obviously cooking. Laurens' favorite past times seem to be eating and photographing Valerie's food and teasing her about the vast amounts she cooks. Valerie deals with it well!
I could go on like this for a while. Combine a healthy imagination, enough hobbies and a nice social life with a degree in writing and you get way too much text.
I am an opinionated, headstrong and very enthusiastic person, who pursues life and it's events with passion. (Please make a note that I think sleeping and watching-tv-while-laying-on-the-couch are part of life's events as well!) Wild as a teen, with multicolored hair, I grew up to always stand by my choices and make my own decisions. And even though I've toned down my hair and looks and have a good job, nice house and suburban lifestyle, I never stopped speaking my mind. If I have an opinion on something, you surely will hear it. On this blog, that'll be my opinion on food, cooking and the culture of eating in general.
Cooking isn't my actual profession, never has been, and probably never will be. After graduating journalism school in December of 2001 I started working in the communications field. After different positions with various companies I currently work in Amsterdam as a senior communications consultant in a small organization with, coincidentally, a lot of foodies.
Since we've moved to our new home, I've started my first vegetable garden. I spend a lot of time just sitting in the yard, looking at what will hopefully be a bountiful crop later in the year. I get angry at slugs and caterpillars who eat my plants and yell at them, even though I realize that's useless.
Another great pastime in our new home, is looking at our 'wildlife'. We live on the edge of the city, our home borders a so-called ecological zone, in which nature gets to run it's course.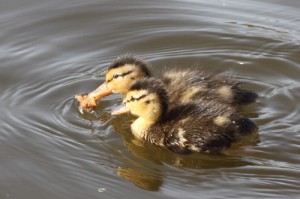 The water that marks the end of our property is the home of a bunch of ducks, moorhens and coots. Their babies are the cutest things you've ever seen.I regularly feed them and talk to them. I'm sure they understand me, as they keep coming back to us. The land behind the water hosts at least one pheasant, but most likely more, they hide fairly well though. Apparently there are lots of carps in the water (they're evil, as they eat the tiny ducklings) and possibly grass snakes as well – since I've never seen them, I choose to deny their existence though, as I'm deadly afraid of any serpent! If I would see one, I would probably run screaming and yell at it to leave me alone. See, another animal I yell at, I'm very mature that way, can you tell?
So there you have it, I'm a 31-year-old-opinionate-communications-consultant-gone-cooking-fanatic-plus-loving-girlfriend-but-lousy-housekeeper. I have a great life, and invite you to have a glimpse into parts of it!