Currently viewing the tag: "Bread"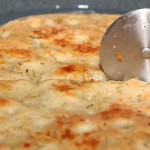 I've come up with a new obsession lately. I try to find traditional Italian recipes online. And no, I don't mean the American cooking sites where people post a recipe that's been in the family and their mom's aunt actually lived in Italy for 2 months. Or the 'I got this from this awesome [...]
Continue Reading

→
Would you like to get in touch, please don't hesitate to contact me via

my contact form.

Latest kitchen talk

Translate this blog

but don't expect it to make perfect sense!