Currently viewing the tag: "Old Fashioned Cooking"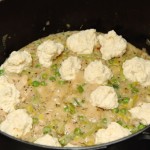 The first time I ever made chicken and dumplings, was a total disaster. I mean, complete, utter, insane bad, terrible, icky goo. I'd used a recipe I found online and the explanation was just terrible. At least for someone who'd never made it before. The dumplings just fell apart and became gooey [...]
Continue Reading

→
Would you like to get in touch, please don't hesitate to contact me via

my contact form.

Latest kitchen talk

Translate this blog

but don't expect it to make perfect sense!