About halfway through the morning today, my week, month or year finally became slower. I had sent our annual report to the printer and for the next 2 weeks I can't do anything but wait for it. Yeah, sure, there's more work to do, but nothing as stressful, much anticipated, or just plain hard. I decided to let myself out of the office early to celebrate. So around 4 pm I hopped on my bike and decided I was going to spoil myself. I went for a fish-pedi first (weird but awesome!) and after that I went to check out Marqt.
Marqt just opened their second store in Amsterdam, which actually resulted in a large article in the newspaper about their philosophy and success. I had taken the tram past their first store many times, but had never actually gone in. It seemed like some sort of hipster place with way too expensive stuff. Today -however- I decided to check them out. And boy was I right – and wrong at the same time. Yes, Marqt is a hipster, yuppy kinda place, but it's hipster meets hippie! They sell mostly organic and/or regionally grown things, but instead of nettle tea and granola, they sell oysters and have a ginormous cheese section with cheeses from all over the world.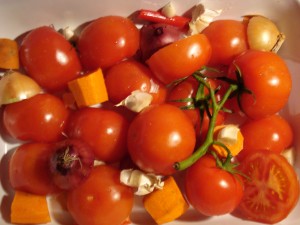 Even though their store isn't big, they have a very very nice selection of different products, virtually the same as in any supermarket, just not 5 different brands of the same thing. They are pretty expensive, but then again, organic food from the grocery store is expensive as well, so the difference really isn't all that big in the end.
As I'd already decided to make tomato soup tonight, I was very pleased to find the most amazing tomatoes I have ever seen in a store in Amsterdam. Tomatoes that actually smell like tomato, oh my. I almost feel bad about roasting them! (I kept 2 behind so I can eat them fresh with the home-made bread I'm baking and the amazingly fragrant basil I got as well.)
So now my tomatoes are roasting with some carrot, red and yellow onion, garlic, a drizzle of olive oil and a pinch of himalayan pink salt, while the dough for my bread is rising. In about 45 minutes I'll process the veggies into a soup and bake the bread. Life is good!
(These pictures were taken by me… Nicer pics of the end result will be posted after dinner (when L is home so he can take them!)
Would you like to get in touch, please don't hesitate to contact me via

my contact form.

Latest kitchen talk

Translate this blog

but don't expect it to make perfect sense!