Almost everything in the pumpkin and squash family in Holland is called pumpkin. The only exception I know of is zucchini. So tonight we ate pumpkin, also known as butternut squash.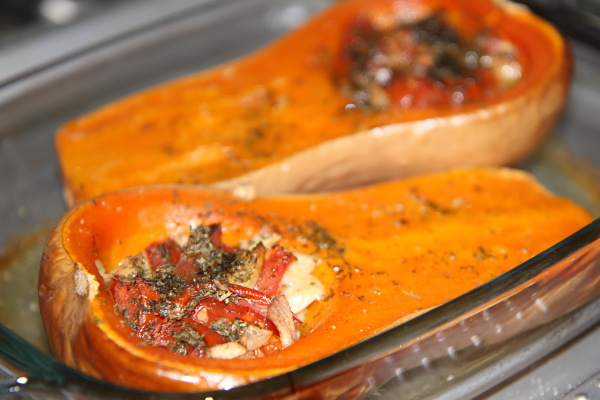 Some types of 'pumpkin'  are hard to come by in Holland. Spaghetti squash, for instance, is something I've never ever seen in a grocery store here. Last week I browsed around online and found that there is a 'pumpkin farm'  in the eastern part of Holland that does sell them while supplies last for a maximum of 2 months out of the year. I'm hoping that some time this summer we'll have time and be willing to drive an hour and a half or two both ways to get me one!
Last week the grocery store had a big pile of butternut squash laying around though. Since squash keeps very well for fairly long, I decided to pick one up despite the fact that I wouldn't have time to cook it until tonight. Add a couple of steaks and you've got yourself a meal. Since the thing was fairly big for 2 people, I omitted the carb dish that I would usually include. There's rarely a dinner without carbs for me, I detest Atkins with a passion! Fortunately L agrees on that!
I got home fairly late and tired from a very busy week. Fortunately my favorite way of preparing pumpkin is easy. It took about 3 minutes preparing, after which I just popped it in the oven, finished my book and when it was soft, we had dinner. What a wonderful way to spend a Friday night!
Tomato and garlic pumpkin

1 pumpkin (butternut squash, or any kind)
1 large tomato
1 bulb of chinese garlic, or 2 or 3 cloves regular garlic
parsley (or any dried green herb you like with squash)
pepper
salt
butter
olive oil
water

Cut the top off the pumpkin, then cut it in half (lengthwise if applicable for the kind of pumpkin you're using). Scoop out the seeds and place in an oven dish. Dice a tomato and the garlic, put tomato and garlic in the now empty seed cavity. Sprinkle salt, pepper and parsley over pumpkin and tomato/garlic mixture. Pour a little water in the dish, add a couple small pats of butter to the dish and to the pumpkin (really just a little pat), drizzle some olive oil over the tomato/garlic mixture and place the dish in a hot oven (about 200 degrees celsius). After about 30 – 45 minutes when the pumplin isn't soft yet, pour a little more water in the dish and cover with aluminum foil. Set the oven a little higher (225-240) and leave it, covered for another half hour or so. When the pumpkin is soft, remove the aluminum foil and if possible, change the oven setting to grill. Leave it to grill and darken a slight bit for another 5 minutes.
You can also add onions, peppers, nuts or mushrooms to the tomato and garlic mixture. Whatever veggies you have will work. Definitely use tomato and garlic though, for flavor and moisture!
Would you like to get in touch, please don't hesitate to contact me via

my contact form.

Translate this blog

but don't expect it to make perfect sense!