I love Mexican food! I really truly, absolutely love it. It hasn't been that long since Mexican has been semi-readily available in Holland. For the longest time there was only 1 Mexican restaurant in Amsterdam.
Nowadays Mexican is more common, but it's nothing like American Mexican. When I think of Mexican food, I think of eating in Colorado. Affordable, awesomely tasty, well-seasoned food. Yummm! (Here Mexican is much les seasoned and for some odd reason pretty expensive.
For years I've made my own Mexican food, whenever I felt like it. Taco's burrito's, mole, whatever. For mole I'd always relied on the Dona Maria jars I'd bring from the US. For taco's, burrito's or something else, I'd generally mix my own seasoning by combining 3 or 4 different brands and styles of seasoning and mixing those together. Non of the readily available seasoning blends really taste perfect, so I'd mix. That was, until last summer.
When visiting a friend in Colorado, he made taco's. Or, the best taco's anyone (besides a restaurant/our vacation in Mexico) had EVER made me. His secret. Seasoning. The year before he'd already told me about discovering an amazing spice shop and during the year we hadn't seen each other, he'd discovered their taco seasoning. The first ever taco-seasoning you don't have to add other stuff to. It was wonderful.
A week later my friend took me to the spice shop, where -among many other spices and seasonings- I bought a 4 ounce bag of the taco seasoning. Just when I was running out, and dreading having to go back to the mixing-of-mixes, my friend informed me he was coming over to Europe. L and I met my friend and his boyfriend in Paris. We had a wonderful (though very cold) time and as an added bonus, my friend brought me a 1 pound bag of taco seasoning. Talk about a good gift!!!!
We generally have hard shell taco's, and in addition to my favorite meat-filling (recipe to follow) I usually serve them with the standard toppings, grated cheese, lettuce, tomato, sour cream and home-made guacamole (seasoned with Mexican adobe from the same spice shop). They make a wonderful filling and fun dinner!!!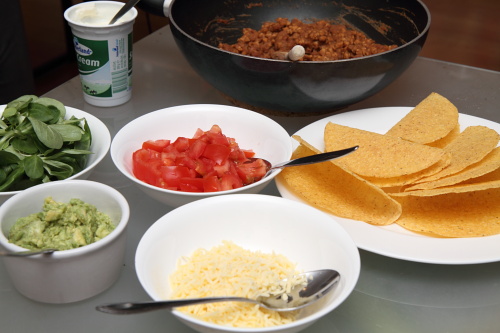 Pork and bean taco filling (recipe fills about 12 taco's)

2 medium sized lean pork chops, ground
1 can refried beans (low sodium if available)
1 to 1 1/2 tbsp taco seasoning
a little water
a little vegetable oil

Coat a deep frying pan to prevent sticking. Add the ground pork. Cook the pork a little and add the taco seasoning. Stir, then add a little water and stir again (seasoned liquid surrounds all the meat now). Cook the pork in the liquid (which will evaporate eventually) on low-ish heat for about 10 minutes, only stirring occasionally. Open the can of beans and add them to the pork. Stir the beans well into the pork, add a little more water to make stirring easier and leave on the stove to heat through, again, only stirring occasionally to prevent burning.

Place pan on table and let everyone fill their own taco's! Be messy and enjoy!!!

This recipe is actually really nice with plain rice as well!
Would you like to get in touch, please don't hesitate to contact me via

my contact form.

Translate this blog

but don't expect it to make perfect sense!