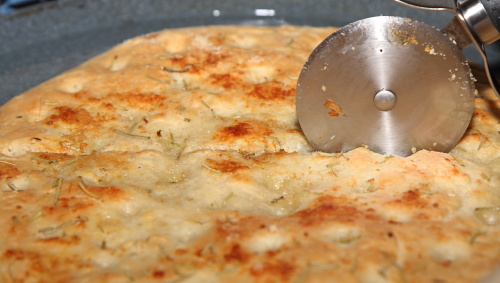 I've come up with a new obsession lately. I try to find traditional Italian recipes online. And no, I don't mean the American cooking sites where people post a recipe that's been in the family and their mom's aunt actually lived in Italy for 2 months. Or the 'I got this from this awesome recipe book of some British writer that claims to know Italian cuisine best'. Nope, by traditional Italian recipes I mean recipes from Italy, literally. Written by Italians, in Italian. Preferably recipes that have nonno or nonna in the description, since that means it's generally an old family recipe.
Now I've taken a 12-week-beginner-course in Italian. This however doesn't mean I actually know the language. I can manage to understand and deduct a number of words and verbs. Fortunately cooking and baking are things I do understand. Which means I understand basic principles. I recognize a number of important words, I know the important cooking verbs. And the words I don't understand but think I possibly need to make the recipe work can be found in the dictionary, or by asking L. L fortunately is fluent in Italian. He however is far from fluent in 'kitchen'. He never bothered to sign up for a 12-week-beginner-course!
He does know however, that lievitare means to rise (or raise), which means I can deduct that lievito is yeast and lievito di birra is brewer's yeast, commonly known in the English speaking world as dry active yeast. Which is the stuff I keep in my fridge. I also know that cucchiaio is spoon, -ino is placed behind words to make it smaller, so a cucchiaino da the is a little spoon for tea, aka a teaspoon.
I love the fact that I can deduct enough Italian to actually cook recipes. I love it! Truly! I thought I was learning Italian so I could say a few words to L's nonna, but I have found a complete different use for it. Especially since the course didn't teach about general conversation, but just the touristy stuff like travel and food. Now I have no clue why I'd talk to nonna about buying a train ticket, but I do know I love to cook!
Long story short. I found a number of recipes for focaccia. Most recipes required at least 2 or 3 hours of raising time. This one only needed an hour to an hour and 15 minutes. Much better when you don't have any breakfast and don't feel like running to the store or even getting dressed properly. I can wait an hour on breakfast (more so because L was still asleep!)
It's a very basic recipe, that only tops the focaccia with olive oil, water and salt, which is the basis every focaccia needs before baking. If your recipe doesn't call for pouring a water-olive oil-salt mixture over the dough before the second raising, your recipe is most definitely not a traditional Italian recipe. It might be tasty, but it won't be traditional!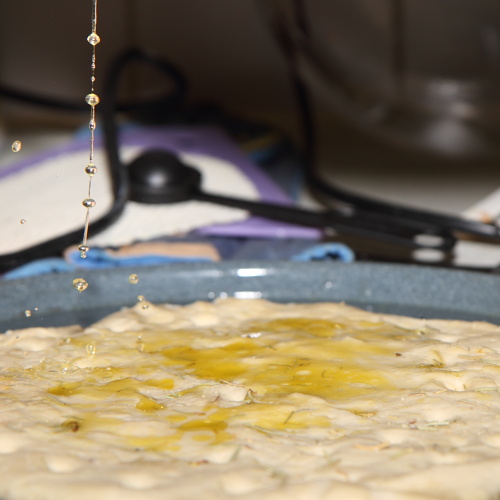 I know this, don't question me! Did you read 5 zillion focaccia recipes in Italian? I didn't think so!
In addition to the very basic recipe, I sprinkled some rosemary and garlic powder on top of the focaccia as well. Now you can top focaccia with a whole number of things. (Try to avoid turning it into a pizza though. Keep it simple, keep it focaccia!) Right before baking I also added the tiniest amount of grated parmesan, which game me the browned spots all over my focaccia. You could barely taste it. Just a tiny hint of cheese, which is the way it's supposed to be. It's all about the awesome, awesome bread!
Now it's very very easy to make. I do encourage everyone to make this. It is that awesome! (L agreed it tasted like a real Italian focaccia and he knows!) And don;t forget to pour on that oil/water/salt mix before the second raising. It makes ALL the difference!
Genovese Focaccia (recipe for 1 small focaccia)

* For some odd reason the recipe measured EVERYTHING including liquids in grams. I suggest that if you want to do some serious Italian (or European in general) cooking, you invest in a good quality kitchen scale!

Dough:

85 grams tepid water
165 grams white flour
10 grams olive oil
6 grams dry active yeast
1 pinch sugar
½ teaspoons salt

To spread over the dough:

2 tbsp olive oil
2 tbsp water
¼ tsp sea salt
½ tsp dried rosemary (optional)
1 pinch garlic powder (optional)
a tiny bit of grated parmesan

Combine the tepid water, the active dry yeast, sugar and salt in a separate cup or bowl and let it proof for a couple of minutes.
Put the flour in the bowl of a stand mixer (with the dough hook attachment), add the olive oil and the proofed water/yeast mixture. Mix until everything has combined and then a minute longer to create a nice, not-too-sticky, ball of dough. (If you don't own a stand mixer or prefer kneading by hand, work it your usual way with these same exact ingredients)
Put a little olive oil in a bowl, place the dough in there (I use the same stand mixer bowl) and let it rise for about 45 minutes, or until doubled in size.

When the dough has risen, place the dough on a cookie sheet or pizza plate and spread it out to form a square or circle. The dough will be fairly thin. Using the back of a wooden spoon, make dimples about an inch apart in the dough.
Sprinkle the rosemary and garlic powder over the dimpled dough (optional, this was my personal addition to the basic recipe I used).

Combine the oil, water, and sea salt and spread that over the dough. You might have some left over, that's okay, just make sure the entire dough is covered in the mixture.
Let the dough rise for another 20 to 30 minutes.
Sprinkle the tiniest amount of grated parmesan over the dough (optional, and really, only use a TINY bit!!!)
Bake in a pre-heated oven (395 degrees F) for 18 to 20 minutes.
Enjoy!
Would you like to get in touch, please don't hesitate to contact me via

my contact form.

Translate this blog

but don't expect it to make perfect sense!