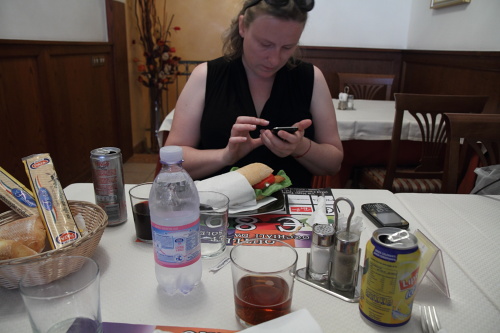 So in Milan we did a lot… of eating!
We arrived in Milan early Friday afternoon. After taking a taxi to the apartment and drinking coffee, we walked to the grocery store across the square. I was amazed, this was a small, little grocery store, compared to American, or even Dutch stores. The selection, however, was amazing. The deli counter had everything you'd possibly ever wanted.
I got francescani bread (actually not sure about the name anymore…), some porcetta, a piece of asiago cheese and a tomato. We went back to the apartment and ate a wonderful lunch.
After lunch we went to the Duomo, into the mall, I spun around on the bull's balls for luck, we had a drink, we went into La Rinascente where I bought a chef's hat! We then slowly started walking back towards our own area. It was about an hour's walk, but it was really hot, so we kept taking breaks, sitting down in a park and such. When we got closer to home we still didn't feel very hungry, probably due to the heat, but figured we had to start looking for a restaurant. We ended up at a little restaurant fairly close to home. We ordered a bottle of water and a half-bottle of white wine and received some fresh hot flatbread (pizza crust with olive oil, basically). We agreed on ordering a full meal instead of just a pizza (it was a ristorante/pizzeria so just pizza would've been acceptable). I couldn't choose between the plain penne all'arrabiata and fussili alla carbonarita or carbonarina or something like that (I completely forgot the name, it wasn't carbonara, but the first part of the name was completely alike.) We swiched plates halfway through our pasta course.
We followed the pasta course with the meat course. We had the tagliate (thin sliced beef) with pepe verde (green peppercorns) and rosemary. And monza with a grean pepper cream sauce. Both very very tasty and again swiched halfway through. Loved both! We ended out dinner with a cup of espresso, which led to the waiter telling us his whole proud story about the coffee and how good it was. It WAS good!
The next morning started out with coffee at home. We proceeded towards the castello and had our breakfast at a little cafe down there. We had cappuccino's and cornetto's (croissants). I then proceeded letting L eat mine and ordering a brioche with chocolate, as we got a croissant filled with marmalade, which I don't eat. The chocolate brioche was wonderful!
After the castello and a lot of walking around we went home for lunch. I got the same breads as the previous day, though Saturday I bought some spianata calabra, some prosciutto di parma, a fresh mozzarella, some fresh pesto and more tomatoes. I got a lot, as the store would be closed on Sunday. We went home and ate and took a nap. It was too hot to do anything anymore anyway.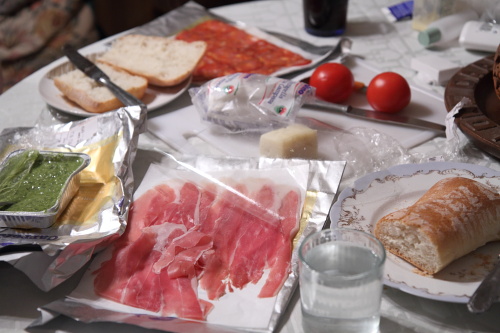 That evening we went to the Brera district. We had a gelato (I had nocciola, hazelnut and amaretto flavors. Yumm! We went on to a terrace for a drink, then started walking around until we found a not-so-touristy restaurant. It really was just a neighborhood dive, which was just what I hoped for!
I ordered spaghetti alla carbonara, the real deal, no cream, and then a grilled steak which had a name on the menu which L didn't even recognize. I figured I was adventurous and would go for it. It was just a perfectly grilled bone-in piece of meat, served with a piece of lemon to squeeze over. I also ordered a side salad. L had spaghetti with pesto and scallopina alla marsala, which was awesome as well (I demanded a bite!). We had white wine yet again, as it was nice to drink something chilled in the hot weather, and ended with another nice cup of espresso. I don't usually drink caffeine that late at night, but you can't not drink espresso in Italy, right?
Sunday morning. Yet again coffee at home, then outside and cappuccino's and cornetto's at a coffee place around the corner. We wanted to go to an antique market, but it apparently wasn't there anymore. We proceeded on to the cemetery to walk around then home for lunch, the rest of the previous day's food.
Another nap and cooling off in the apartment and outside for dinner. Back into the center, a little walking, an aperitivo at a cafe in the Duomo area. I didn't really want to eat there though, as it was all way too touristy. Now it's impossible to find bad food in Milan, I'm convinced, but still, didn't want the touristy stuff. So we went and walked again, then took the subway more towards our own area (though not quite) and ended up in a tiny little restaurant. They specialized mostly in fish, but they had meat dishes too. I started off with gnocchetti alla taleggio and then had another tagliate with rosemary and green pepper. It was wonderful yet again. L had a steak with a mustard sauce, which was absolutely amazing. (We make a point of not ordering the same dishes, so we can taste each others, or so we don't look like the stupid couples who want the same of everything. We didn't want to take the Fiorentine, as that was just tooooo big and the 4th and last meat dish was sold out, which explain my re-run of tagliate). Sunday evening was the first time we ordered dessert, I wanted a piece of tiramisu and L was willing to help me eat it. Coffee to end all with again.
Mondaymorning meant shopping for me, but not before our usual cappuccino and cornetto. I bought a couple of dresses and a pair of pants and then we walked on down the corso buenos aires. Halfway through we were ready for cold air and lunch, so we went into a restaurant that had air conditioning. I had a wonderful panino with breaded chicken, tomato and lettuce. Once cooled off we walked on for a little bit and then proceeded home to cool of, shower and rest. Around 8-ish we walked over to L's cousin's across the street, where we'd been invited for dinner.
At L's cousin, we started off with aperitivo and pleasant conversation. It was hard, and not that well-performed, but I did practice my Italian more that I'd had the rest of the week. We had spaghetti with fresh made pesto (the basil was cut from the garden about 5 minutes before dinner) and cotoletta alla Milanese with melanzane (eggplant) and zucchine. I skipped the after-dinner fruit, but did enjoy a limoncello before my coffee. It was absolutely wonderful.
Monday marked our last day. After the usual cappuccino and cornetto and 2 new pairs of shoes we got our usual bread and meat lunch (Salami Milanese and Parmacotto) and finished off the last of the tomatoes and pesto. We cleaned up the apartment and left for the airport. Then we bought a giant hunk of parmigiano cheese to take home and left Milan.
It was a wonderful, lovely and very very tasty vacation!!!!
Would you like to get in touch, please don't hesitate to contact me via

my contact form.

Latest kitchen talk

Translate this blog

but don't expect it to make perfect sense!