So after teasing you with the pictures of the finished product, today's the day I'll show and tell how it all came to be.
almost 31 years ago, on a sunny day in… Oh wait, no, you didn't want to know the history of me, you wanted the history of the swiss roll ice cream cake. That's right. This is a food blog. You want recipes, and explanations. The nitty-gritty of making such a beautiful, wonderful, awesome peace of edible heaven.
So this entire post will basically be a recipe. With an explanation of sorts. And the pictures. Ofcourse, the pictures of the baking and the assembly. Of the adding of the ice cream to the cake. And the sauce, oh my that sauce.
Hold on, wait, don't go away! I must go eat a piece now. Talking about this cake makes me hungry!
The deal with this challenge was making everything from scratch. Now obviously, if you're lazy not into baking and ice cream making, you could just buy a swiss roll, 2 kinds of ice cream and some sort of sauce at the grocery store and assemble this dessert. And that would be just fine. You know what your abilities are. You know what you're comfortable with. And if you want to have a pretty and impressive desert, but don't want to spend hours and hours and days making it. Just go to the store. I will forgive you, and so will the people who eat it, I'm sure!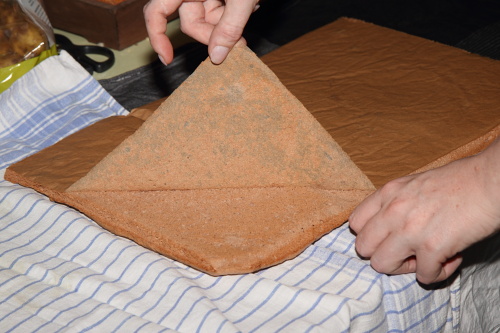 But if you're crazy like me, you'll want to make it from scratch (and not only because of an assignment).
I started by making the ice creams. 2 different kinds. The gelato alla nocciole is my very favorite ice cream and it's recipe has been posted on the blog already. So all I give you is the link. That was the first ice cream i made. Then I just placed it in the freezer until assembly time, 2 weeks later. I still don't know how I managed to not eat it all. But I did, so yay for me!
Next up was the coffee ice cream, or gelato di caffe. I – yet again – found an Italian gelato recipe and made it. This is the first ice cream recipe I've ever found that literally uses a whole egg. No separating and using beaten egg whites, just a whole egg. This however does mean that while thickening it you REALLY have to watch out. After all scrambled coffee eggs really don't sound that good. (Don't worry, I cought it in time, but it goes quickly!) Again the ice cream, once churned is placed in the freezer until you start the final assembly.
The next step is making the swiss rolls. Now I'd never made those before, so that was quite the challenge. I also don't own a cake sheet (just a cookie sheet that's adjustable in size and VERY shallow) but I do have baking parchment, scissors and a whole lotta faith in making it work.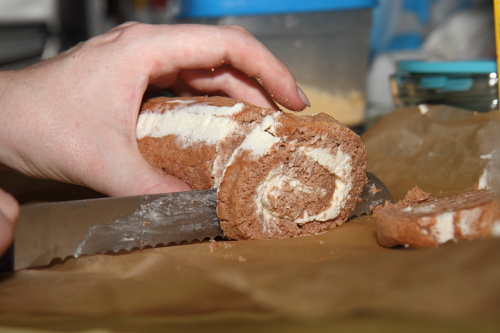 As I mentioned yesterday I wanted the roll to be angel food cake. Chocolate angel food cake to be exact. This was way easy. Add 1 1/2 to 2 tablespoons of good quality dutch cocao to your standard angel food cake recipe (like the one I used for my cupcakes) and presto, chocolate angel food cake.

Then spread it out nicely on your cake sheet (or cookie sheet) that's lined with parchment and bake in the oven until it springs back and has become a nice sponge. Remove from sheet onto a kitchen towel immediately, remove the parchment (cut in 2 if you've made a huge one like me), sprinkle with powdered sugar and roll it up with a towl in between immediately!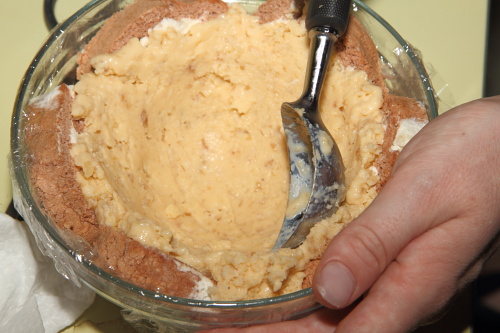 I'd also found a recipe somewhere that said you could use your filling immediately and roll it with the filling, but that doesn't work half as good. Really, let it cool, all rolled up in a towel, and then spread your filling. Take those 15 extra minutes. It's definitely worth it!
My filling for the swiss rolls was plain old whipped cream. I added some stabilizer (which I buy in tiny little packages, enough to stabilize 1 container of whipping cream) to my heavy whipping cream. Added a heaping teaspoon of homemade vanilla sugar and whipped it with the help of Anne-Sophie. (Anne-Sophie, in cake you're a new reader here, is the name of my beloved KitchenAid)
On to the last ingredient. A caramel sauce. I got this recipe from tasty kitchen and it was pretty dang easy and extremely tasty. You just heat sugar, corn starch (yes really) and water, add some butter and cream and presto. Tasty, yummy, amazing caramel sauce that keeps in your refrigerator for a long long time. I might make myself a caramel macchiato next weekend, to selebrate me making this sauce!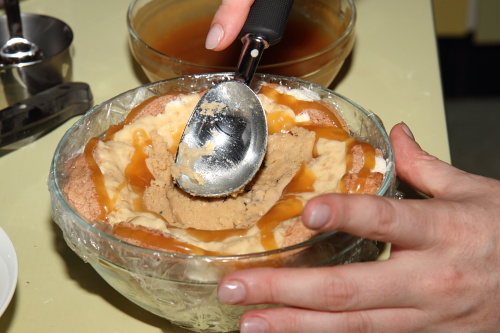 Once you've made all your ingredients, you can start assembling.
Put a layer of plastic wrap in the bowl you're using for easy removal.
Cut your swiss roll in even slices and place them all around the inside of the bowl
Warm up ice cream number 1 so it gets soft, and scoop it over the swiss rolls, spreading it out nice and even to cover it all.
Place bowl with rolls and ice cream in the freezer to firm up
Once firm (After an hour or so) remove from freezer and drizzle caramel sauce all over the ice cream.
Place bowl back in freezer (see I skipped that step which led to disaster!)
Remove next ice cream from freezer to soften up.
Remove bowl from freezer once firm and scoop in second type of ice cream, evening everything out to get nice smooth, together layers.
Freeze again until everything's firm.
Then remove from freezer.
Place on serving dish.
Cut, eat and enjoy!
(for significant others only) Blame your loved one for your full tummy!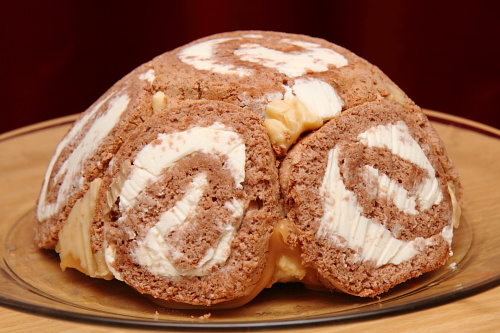 See, that was easy, right????
So now on to the recipes you've all been waiting for!
[print_this]Recipe A: Chocolate Angel food cake swiss roll
In the Angel Food Cupcake recipe sift 1 1/2 to 2 tablespoons of cacao into the flour/powdered sugar mixture. Bake in a sheet pan lined with parchment. Once done, remove the sheet from the pan. Cut if necessary, then sprinkle with powdered sugar and roll the cake with a kitchen towel in between. Let rolled up cake cool.
Prepare the filling you like (like stabilized whipped cream or butter cream or cream cheese frosting or so), untoll the cake, remove the towel, spread on filling and re-roll. Store in parchment or plastic in the fridge or freezer until you need it.[/print_this]

Recipe B: Gelato alla Nocciole

[print_this]Recipe C: Caramel sauce

1 cup of fine sugar
1 teaspoon of cornstarch
1/4 cup water
100 grams butter
1/2 cup heavy cream

In a thick bottomed pan, combine sugar and cornstarch. Mix well. Then put the heat on medium, add the water immediately and whisk until it's evenly combined.
Put away your whisk, leave the water/sugar mix on the heat and swirl your pan occasionaly. After 5 to 8 minutes from one second to the next your mixture will get color. This goes really quickly, so stay close. Once it's reached the color you want, add the butter. Once the butter has melted add the cream. Keep swirling as long as you can but at some point swirling will no longer work, then grab a wooden spoon and stir/mis well so all the lumps are gone. Do this on low heat. you don't want anything to burn, but it needs to melt enough/be liquid enough that everything gets combined.
Take the sauce off the heat ond pour it into a glass container. Store in the fridge.[/print_this]

[print_this]Recipe D: Gelato di Caffe

150 gram milk
200 grams whipped cream
100 grams sugar
2 eggs
1 small cup of strong coffee (espresso is preferred)
a couple of coffee beans, ground semi-fine

Start out by brewing your coffee and letting it cool.
In a bowl mix the sugar and eggs, set aside. Heat the milk with the ground coffee beans and let it get to a boil. After if boils, remove from heat and slowly whisk it through the egg/sugar mixture. Whisk quick and pour slow so you won't boil the eggs.
Put the milk/egg mixture back in the pan and heat it for a few minutes to thicken it while stirring constantly. Move the mixture to a bowl, add the cooled coffee and let the entire mixture cool off.
Prepare your whipped cream (as in whip the cream) and carefully fold the cooled coffee mixture into the whipped cream. Pour/scoop the mixture into your ice cream maker and churn according to your manufacturers directions. Place in a freezer-safe box and let it firm up.[/print_this]