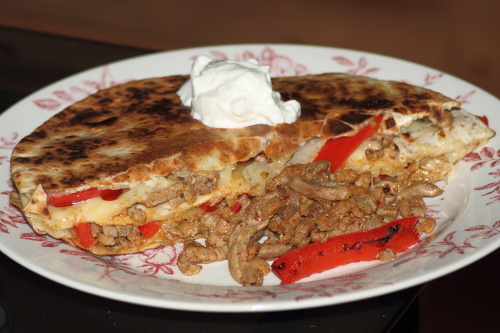 With the ongoing crazy-warm-weather I'm struggling to find recipes to cook. I don't want to be in the kitchen too long, in this heat, but I also don't want to eat 'just' salad every day.
It's hard to figure out what to make when you have no A/C (only in the bedroom), no windows in the kitchen (that's the lay-out of the condo, no big issue, just  not very inviting to spend long times there when it's hot) and a balcomy on which you can't grill. I can't wait until we move, and I'll have a kitchen that's attached to the yard, where I can grill - also, a kitchen where I can open the door and let the cooler evening air come in.
In my ever-lasting search for nutricious, tasty, quick and easy summer meals, I com up with all sorts of things. A lot of pasta dishes, but mostly simply steaks, burgers or other things I can prepare in 2 minutes and grill for 5 (on the indoor grill). But even steaks and sausages get boring after a while, which leads me to grabbing random other kinds of meat or veggies from the display at my grocery store.
I've found these little pork strips, they're like (pork) shoarma or gyros pieces, only un-seasoned. I figured I could work with that. I also saw some garlic and herb tortillas, which I figured couldn't hurt me either. I had my standard staples of sour cream, onions, peppers and such, but never did it occur to me to put those togehter. OR at least not at the store.
When making dinner I figured I could use some mexican seasoning on the pork and just make some sort of wrap. Then I figured that  I could also make quesadilla's. Veggie and meat quesadilla's (are they still called quesadillas then, I doubt it, but really, who cares about that?)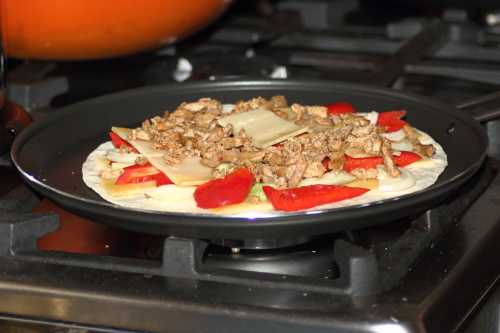 I started placing my tortilla, some cheese soem veggies and the meat on top of a tortilla. Then figured I still had waaaay too much of my meat and veggies left for 1 'quesadilla'. I would have to make 2. Then I figured: why not keep stacking, just add another tortilla, some more stuff and make it into a little pie of sorts. I was using my new fritata pan, so turning it shouldn't be a problem…
And so it happened that we ate a tortilla pie that night. Did it help with the heat? Heck no! But it was mighty tasty and something I will likely make again. There's no real recipe here, as it's a úse whatever is in your fridge dish. But here goed the general idea.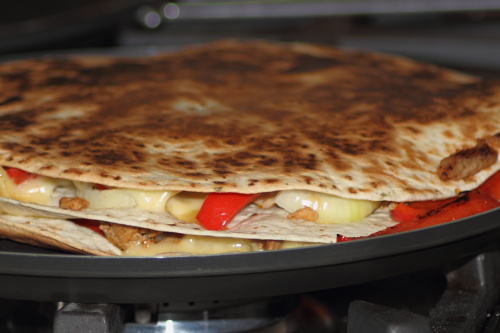 What you need:
3 tortillas
cheese
veggies
meat (already cooked)
Take 3 tortillas, put some cheese on the first on (bottom) then stack with half the cooked meat and veggies (seasoned to your liking). I like onions, garlic, mushrooms, and peppers, but if you have other veggies, just grab those. Whatever works for you!
Put some more cheese on top of the veggies and meat. Grab tortilla number 2, place on top of the cheese, then put some more cheese on there (it makes everything stick together), the other half of the veggies-and-meat, some more cheese and the last tortilla. Either use a couble (fritata) pan and cook it stovetop, so the cheese is melted and everything is warm, or place it in the oven until the same happens.
Serve with some sour cream, salsa or whatever you fancy. You could give everyone a smaller piece, and add a big, green salad, or do like we did and both eat a giant piece and get enough veggies into your system that way.
Would you like to get in touch, please don't hesitate to contact me via

my contact form.

Translate this blog

but don't expect it to make perfect sense!