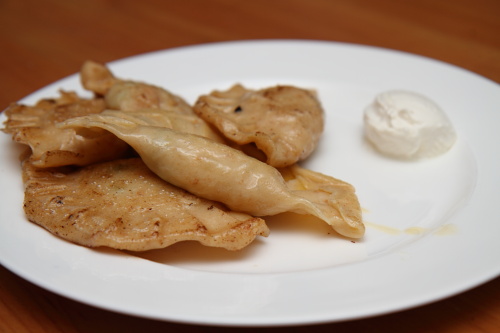 Yes, not only did I manage to participate in the Daring Bakers challenge this month, I also finished the daring cooks challenge. Who am I kidding, I didn't just finish it, I rocked it, right the night the challenge was posted, I made my wonderful (somewhat) whole wheat tasty happy great awesome <insert whatever positive adjective you want> pierogi. Yummm.
The August 2010 Daring Cooks' Challenge was hosted by LizG of Bits n' Bites and Anula of Anula's Kitchen. They chose to challenge Daring Cooks to make pierogi from scratch and an optional challenge to provide one filling that best represents their locale.
Pierogi, Perogie, Perogy, Pierogie, whatever the correct spelling is (seriously, I have found a LOT of different varieties in spelling) are awesome. Dumplings filled with mashed potatoes and deliciousness. How could you ever go wrong with that?
The challenge included an option to include local food traditions, but since pretty much the only Dutch traditional food we have is mashed potatoes with veggies mixed in, I figured there wasn't much of a challenge there. Instead I decided I'd just make the best mashed potato filling I could come up with.
Once I loaded my potatoes with loads of butter, milk, loads and loads of cheese, lots of bacon bits and onion and garlic, I started feeling a little guilty.
I have no idea why!!!
I never feel guilty about good-tasting-food, so why on earth would I feel guilty about this??
I gave in to the guilt though and added a small handful of peas into the mix. There, that made me feel better. Now it's a healthy family dish, right?!
What I didn't necessarily change for guilt or health reason, but just for my personal preference is the dough. The recipe I used called for all white flour, but I replaced some of it with whole wheat. If given a choice I'll choose whole wheat bread over white about 99 out of 100 times. I jsut prefer that structure. And despite the fact that piergogi's wouldbe (Are, I know, had them before!) wonderful with all plain white flour, I figured using some whole grain in there, would give it a nice little extra kick.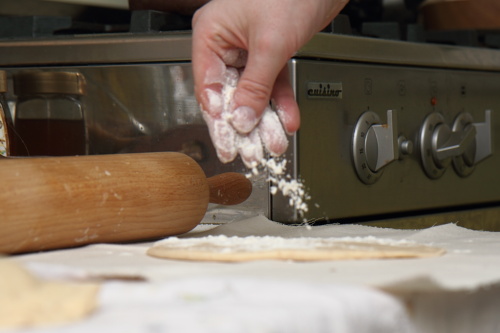 It did. Especially after frying the pierogi's in butter afterwards, the whole wheat gave it a little something extra.
So that night, almost a month ago, we had pierogi's for dinner.
And then we couldn't move anymore and L said it was my fault. I repeatedly try to tell him that it's his own fault, that he doesn't HAVE to eat such large portions, but he still blames my cooking. And now,  finally, after all the time hearing him saying that it's my fault for cooking well, I could blame somone else.
So I blame you, LizG and anula, for giving us a full tummy (and a freezer filled with 3 or 4 more servings). It's positive blame though! A freezer full pierogi and a full tummy are good things in my book!
To conclude this post, I'm not giving you a full recipe. Yeah, I know, evil me! But I really, truly want to leave this to your imagination. All I'll give you is the recipe for the dough I used. You go ahead and combine your own filling. Do you want heavy, or light, do you want potatoes and cheese, or are you going for something else? Anything is possible with pierogi! So go on, grab your flour, make your dough and get creative. That's what it's all about!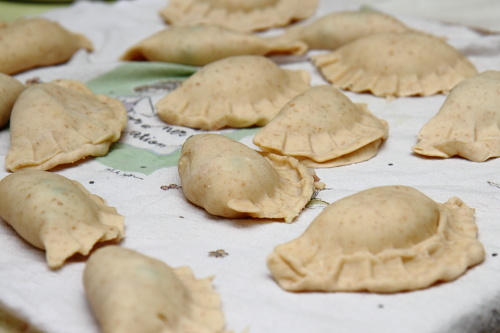 [print_this]Pierogies (dough and boiling/frying instructions)
(recipe made me about 22 pierogies)

1 1/2 cups of plain white flour
1/2 cup of whole wheat flour
1 egg
1 cup of water
a good pinch of salt

In your stand mixer add your flour (both types) and your salt. Using the dough hook attachment start mixing and drop your egg in there too. Slowly start to add water until the dough takes and starts coming together. You don't want the dough to be too sticky. Depending on the brands of flour and the size of your egg, you might not need the entire cup (I had a little water left by the time the dough was formed.) If your dough gets too sticky, no worries, just add some extra flour (either kind).

Once the dough is formed, lay it down to rest, covered with a kitchen towel, for about 20 minutes. (This gives you plenty of time to work on your filling. Once the dough is rested, start rolling it out. You can go as thin as you want with it, mine was probably 2 to 21/2 milimeters thick (so not incredibly thin). Cut circles from the dough, put some stuffing on there, fold the dough and close with the tines of a fork. You shouldn't need water, it should stick by itself. You could also use a dumpling mold for this if you have one.

The leftover dough can be rolled again and used for more circles, all the way intil you've finished the dough.

Boil the pierogies a couple at a time in fast boiling salted water. Once they float to the top, they're done. Set them aside, then heat up some butter in a frying pan and fry the pierogies a couple at a time, so they get nice and brown and buttery!

Pierogies can be frozen, I personally prefer the uncooked freezing. Flash freeze them first (on plates or a cookie sheet or whatever works in your freezer. Once the outside is frozen and not able to stick anymore, you can put them in a baggie or container together and store them until you need them. Don't thaw them before cooking!

[/print_this]
Would you like to get in touch, please don't hesitate to contact me via

my contact form.

Latest kitchen talk

Translate this blog

but don't expect it to make perfect sense!