At Christmas a few years ago, my mom gave me a 'donut maker'. It wasn't one of those donut shaped baking sheets you see everywhere, but some sort of funnel-like thing that's supposed to let dough out in a donut shape – a batter-drop-donut-maker. It looked cool. I – however- never used it.
Up 'til this month…
The October 2010 Daring Bakers challenge was hosted by Lori of Butter Me Up. Lori chose to challenge DBers to make doughnuts. She used several sources for her recipes including Alton Brown, Nancy Silverton, Kate Neumann and Epicurious.
Instead of the recipes Lori provided, I figured I'd try using my donut maker. I used the provided recipe with only minor alterations. speculaas-spices instead of vanilla.
I failed!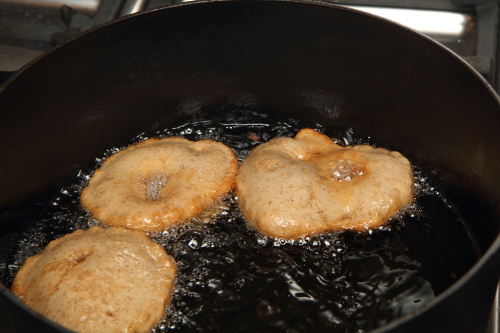 The batter wouldn't come out at all, it was way too thick.
So I thinned it out a bit.
It was still too thick.
After thinning it out more and more it finally dropped through the hole. But it ended up nowhere near the shape of a donut. It was closer to funnel-cake. Then it was closer to an oversized donut hole. Then I thinned it out more.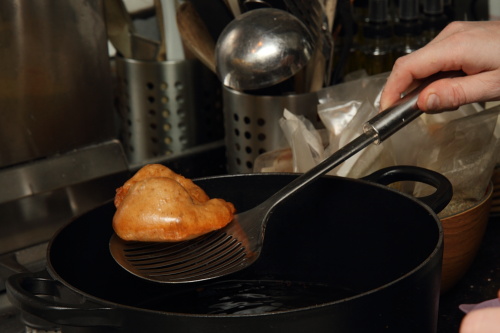 In the end only 1 of my donuts remotely resembled a donut. Nope, it wasn't pretty, wasn't pretty at all.
They were however tasty, so I will still give you the recipe. Just don't try putting it through a donut maker. Just drop it using two spoons or something, like you would do with drop-dumplings.
Then coat them with a little glaze of milk, powdered sugar, a bit of cream cheese and a drop of vanilla extract. And enjoy them. And forget about the fact that they were supposed to look like donuts.
[print_this]Donut-tasting fried dough thingies
(recipe is enough for 6 regular donuts)

175 grams of AP flour
20 grams of sugar
5 grams of yeast
125 ml of milk
some speculaas-spice (or gingerbread spice mix)

Warm the milk up a little bit, then add the yeast. Wait 5 minutes or so to proof the yeast, then mix in the dry ingredients. Leave the batter to rise a little. If it's too sticky, add a little water.
Fry in sunflower or canola oil (drop them in a big spoonful at a time), until nice and brown.

Eat as is or, even better, after dipping them in a glaze of your preference!

Yummm

[/print_this]
Would you like to get in touch, please don't hesitate to contact me via

my contact form.

Latest kitchen talk

Translate this blog

but don't expect it to make perfect sense!