Currently viewing the tag: "Leek"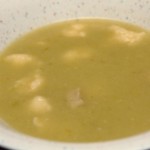 Our grocery store had the strange idea to make a bunch of leeks the same price as 1 single trimmed leek. So I bought a big bunch of them. The result, adding leeks to many dishes.
I already wrote about my Chicken and Leeks and Dumplings. After that dish, I wasn't [...]
Continue Reading

→
Would you like to get in touch, please don't hesitate to contact me via

my contact form.

Latest kitchen talk

Translate this blog

but don't expect it to make perfect sense!