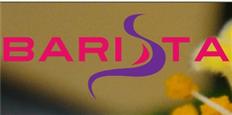 I went to Barista for lunch. It was awesome.
That sentence I just wrote, should really be enough. It was that wonderful. Barista has been nominated as one of my 4 new restaurants I need to try out this year. I went there for lunch, and I'll definitely go back for dinner.
Barista is a small, very small, Italian restaurant near my office. I'd read about them having great coffee and then found out they served food too. I went there for lunch with a co-worker and we ordered panini's and cappuccino. Nothing that special, you'd think, however when the bread, ham and mozzarella are either incredibly fresh and home-made or directly imported from Italy, even panini's become something special.
I chose the panini with prosciutto San Daniele (pretty much the best cured ham available in the world), mozzarella di bufala (fresh mozzarella made from water-buffalo-milk, officially the only product that can be named mozzarella, but since the rest of the world accepts inferior stuff with the same name as well, nowadays Italians will specify it's 'di bufala') and fresh arugula. The fresh, thick sliced white bread was toasted to perfection, so that not only the bread had a nice crunch, but the mozzarella had just melted and the ham was just warm.
Heaven in a sandwich.
My co-worker ordered a panini with artichocke and salami and was very happy with hers as well.
Since it was a work lunch, I didn't have a camera on me, so I picked up these pictures online. (If you own them, let me know so I can credit you!) Next time, when we go there for dinner, I'll be sure to take my own pictures and show you more!
Would you like to get in touch, please don't hesitate to contact me via

my contact form.

Latest kitchen talk

Translate this blog

but don't expect it to make perfect sense!