One of the most hated dishes I can remember from childhood was probably brussel sprouts. I didn't know any other kid who did like them. And just the sprouts still aren't one of my favorite vegetables. However in Dutch 'stamppot', I do like them.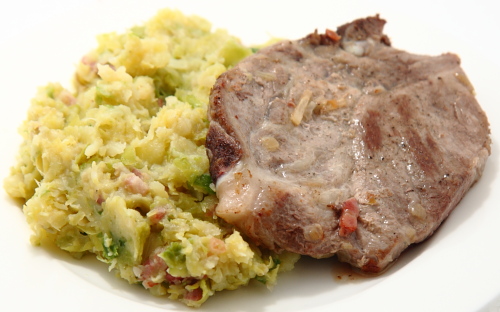 Stamppot is a traditional Dutch dish. It's basically any vegetable mashed with potatoes. Nowadays most people add extra tastes to the dish, by adding milk and or butter to mash it a little smoother, and bacon bits, onion, garlic, cheese or whatever seems tasty to add an extra dimension.
I hadn't tried brussel-sprouts-stampot before Christmas eve dinner last year. We went to a fabulous dinner at our friends' (which has been L's tradition for years and I joined in for the first time last Christmas eve.) One of the dishes served was a brussel sprouts stamppot with ginger. It was awesome! Soon after I figured I'd try it myself too. I didn't have any fresh ginger at that time, so I figured I'd try something different. I added garlic, onions and bacon bits and mashed it with butter and milk. We both really really liked it. Today I made it with a thin, bone-in pork-chop.
Brussel sprouts "stamppot" (mash)

enough potatoes and cleaned sprouts for the amount of people eating
bacon bits (uncooked, lean, but still with a little fat on there)
garlic and onion, chopped
pepper
salt
milk
butter

Peel the potatoes, cook the potatoes and sprouts (together for less dishes) in a large pot of salted water. Fry the bacon bits with onion and garlic. Once the fat has melted off a little add some butter and keep it on low heat. (If I add meatballs or pork chops to dinner, I'll actually cook those in that pan too.)
Once the potatoes and the sprouts are soft, drain them and mash them with a little milk, the bacon, garlic, onion and the grease from the other pan and season to taste with a little fresh ground pepper. Enjoy!
Would you like to get in touch, please don't hesitate to contact me via

my contact form.

Latest kitchen talk

Translate this blog

but don't expect it to make perfect sense!