Currently viewing the tag: "Potatoes"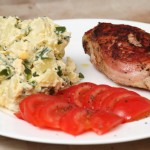 I've been sick this last week. While I was trying to deep clean my marble kitchen floor out of the blue I suddenly got this terrible throat ache. Literally while I was cleaning. A day later the violent coughing and fever started. I sincerely despise these late-season flues.
Being sick means [...]
Continue Reading

→
Would you like to get in touch, please don't hesitate to contact me via

my contact form.

Latest kitchen talk

Translate this blog

but don't expect it to make perfect sense!