Currently viewing the tag: "Wine"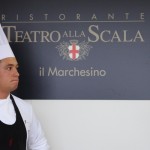 We spent 5 days in Milan to visit my in-laws. Going to Milan is always a great treat to me. Not only because of the fact that it's vacation, with nice weather, amazing historic sights and family, but for a large part it's also due to the amazing food. Going into an 'express' supermarket makes [...]
Continue Reading

→
Would you like to get in touch, please don't hesitate to contact me via

my contact form.

Latest kitchen talk

Translate this blog

but don't expect it to make perfect sense!