Last Sunday we celebrated my in-laws' 45 wedding anniversary. Some day I hope we get to celebrate our 45th anniversary (not wedding, as the chances for that are slim – not merely the  likelihood, but sheer age restrictions are present here!, but the us-being-a-couple-anniversary is hopefully doable.)
And if we get to do that, I would totally love to receive the gift we gave them!
Okay, yeah, so I'm a foodie. And L is an eat-ie. L's mom is Italian (as in born and raised in Milan with summers in Tuscany), so she's used to wonderful food.
We say "love goes through the stomach", and they've been lovingly married for 45 years.
What's a better gift than the gift of food???
We went with the 45 theme. If you're doing several different gifts, you better find a theme in there. You don't want people to think you just randomly went to the store and grabbed some groceries and packed them.
- 45 pieces of home-made ravioloni (napoletana and funghi é speck),
- 45 Leonidas bonbons, (great! chocolates),
- 45 glasses of wine (or well- a number of still-closed bottles) and
- 45 saucages, from the mini-mini half-a-bite-kind to bigger, full salami's.
The idea was primo, secondo, dessert – a full dinner, or at least, that's how we explained it.
And we added napkins, wrapped pretty with a big bow. Just for completeness, and the fun of it!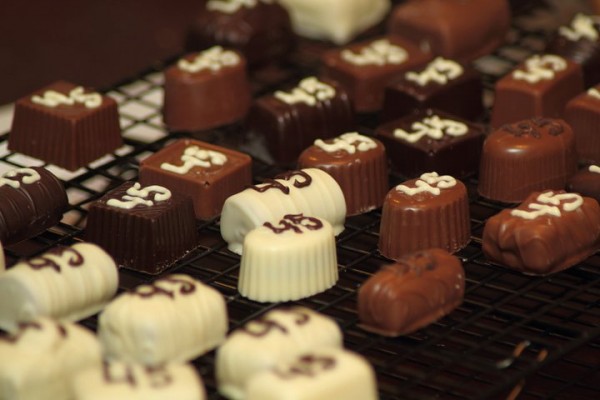 The reason behind this themed food gift is that we really didn't know what to get them. What do you buy people who already have a house full of stuff, travel to Italy regularly, already have a season pass to the opera, and have their own life completely figured out. We had a hard time figuring it out. We'd been wrecking our brains for weeks, months even. Until we came up with the 45 thing.
So I bought the chocolates, and these chocolates – bonbons –  are wonderful on their own. Leonidas is a Belgian brand. They make really high quality chocolate. Their chocolate is made fresh regularly – daily I'd say. I bought them in one of their own stores, which also means you know they haven't just been transferred from a box that's been lying around there forever. 
While I was picking out the chocolates, I noticed they had some blocks of their high quality chocolate, ready to be melted. I obviously had to, needed to, get creative.
I bought 6 extra chocolates, to test, plus a block of extra dark and a block of white chocolate. When I got home I melted the chocolate and piped the number 45 on the 6 test chocolates. Half way through I changed my tip, to get a thinner line, which I could control a little better. After those 6 chocolates, I felt fully comfortable to pipe them as a gift.
The end result… 45 bonbons bearing the number 45. I love getting creative with edible stuff, especially if it's chocolate! And expecially when I know it'll actually mean something to someone.
My in-laws were excited about the gifts. They obviously asked L where he ordered the chocolates. He (Somewhat proudly) announced 'from Valerie'. 
This confused his parents at first -couldn't I have told L where I'd bought or ordered them-, until we actually mentioned that I physically decorated them.
The whole unwrapping of gifts was hilarious. They hadn't completely figured out the theme yet, when they started finding sausages in the packages. I can totally imagine how strange that must be.
Hmmm, another sausage. Yes, we like sausage, but why another. Oh, another package, these are small sausages. What the heck, why do these darned kids think we eat that much sausage. Oh, napkins, cute, oh wine, great, we like wine, and chocolates, good choice…  What the heck, another sausage!
All in all we had a very nice evening, and I can't wait until someone makes chocolates like these from me! (And if you feel inclined to do so, hazelnut, praliné creme are my favorite!)
Would you like to get in touch, please don't hesitate to contact me via

my contact form.

Latest kitchen talk

Translate this blog

but don't expect it to make perfect sense!