We had walked around all day, in the rain. We had visited places and were tired and hungry. The perfect situation to eat stamppot. The traditional Dutch dinner – hearthy, warming, and pretty dang tasty too!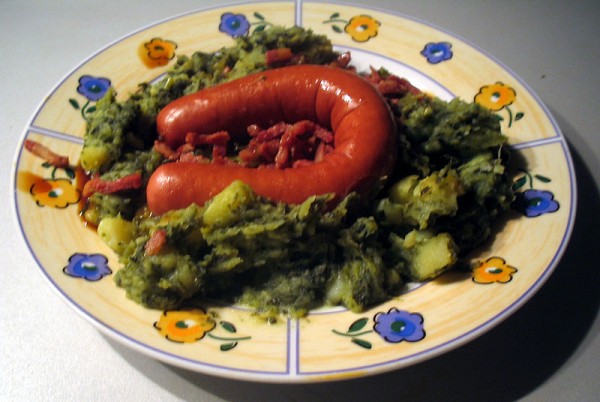 My cousin and her family and 2 friends visited Amsterdam for a day. They were on their way from Portland to Kenia and had a 23 hour stop in Amsterdam. Perfect for a visit.
It was their first time visiting Amsterdam, so we had things to do and see. Especially since their heritage is Dutch and they'd found the address where my cousin's husband's grandpa had lived before his parents moved their family to the other side of the world.
So we went to the airport, picked them up, went to their hotel and then into town.
We strolled around, visited a museum (Our Lord in the Attic – an example of Amsterdam's tolerance). We took a canal boat tour around the city and then visited the house where their family left to the US from. My cousin's 2 kids and her husband touched the door their (great) grandpa had used.
The weather was typically Dutch fall. It was dark and rainy. However, this didn't stop us. After all, them being from the Pacific Northwest, they are used to terrible weather.
By the end of the afternoon everyone was tired. They'd been up for about 24 hours (including the flight over). We took a tram to our home, where everyone sat down (and used the computer) and I cooked.
I made three different types of stamppot: boerenkool, zuurkool and andijviestamppot. Everyone enjoyed the food and company. After dinner (and dessert) we walked them back to the tram and got soaked again due to a massive shower that lasted the length of the walk to the tram stop — stupid Murphy!
I'm so glad we got to spend time with family and friends. I loved showing them around my city and their heritage. I was excited to be hosting a dinner for 8 at my home.
Yesterday was a great day!
(We spent more time eating, talking and having fun than thinking about photography, so the picture portrayed here is made by M.Minderhoud, found on wikipedia, and the boerenkool was probably made by him/her as well!)
Recipes for stamppot will follow throughout the winter. Some have already been posted before.
Would you like to get in touch, please don't hesitate to contact me via

my contact form.

Latest kitchen talk

Translate this blog

but don't expect it to make perfect sense!