Currently viewing the tag: "Nuts"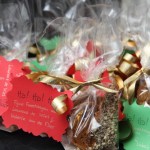 So those recipes I promised you, along with the video of the ginger snaps baking. They've finally arrived!
First, a little story. A fun story. The story of people who love cookies more than what's good for them!
This year I dove into the Christmas baking [...]
Continue Reading

→
I'm on my ice cream kick. Seriously. I just love to, need to, want to make ice cream. I can't help it. So far I'd only tried custard ice creams the American or French way. This time I figured I'd give an Italian recipe a chance. Mostly because I wanted to take the most natural [...]
Continue Reading

→
Would you like to get in touch, please don't hesitate to contact me via

my contact form.

Latest kitchen talk

Translate this blog

but don't expect it to make perfect sense!