I'm on my ice cream kick. Seriously. I just love to, need to, want to make ice cream. I can't help it. So far I'd only tried custard ice creams the American or French way. This time I figured I'd give an Italian recipe a chance. Mostly because I wanted to take the most natural (aka only real hazelnuts, no extracts, no oils) approach to the ice cream. Also because the gelato alla noccioli I ate while in Milan was just so dang good!
I found an italian recipe online (instead of using my italian gelato book) which actually used whole eggs (separated). I immediately liked that, as I already have a heaping load of saved egg whites (frozen) and I really don't know what to do with them. We don't like egg-white-omelets, I don't want to keep making Angel Food Cakes, no matter how tasty they are. I just don't want more whites, period!
A recipe using the whites, therefor, was perfect for me.
And perfect it was. This ice cream is soooo dang tasty! It's so extremely nutty. It truly does taste like you bought it at a gelateria in Italy somewhere.
Unfortunately I was too busy making it to take pictures, and neither did L. So here's a picture of some hazelnuts instead…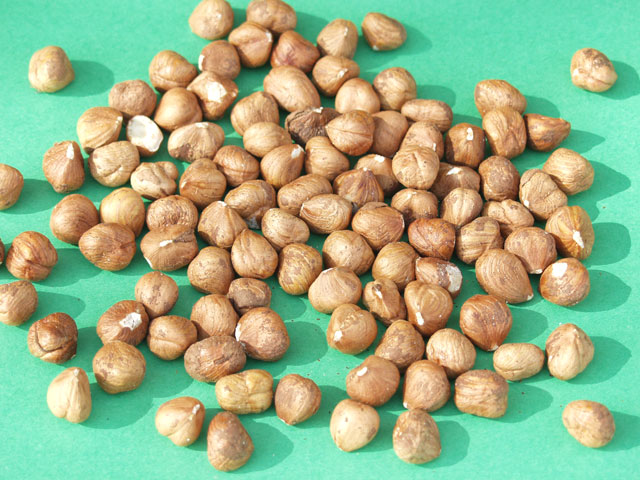 Did I mention I really really like hazelnuts. Especially when incorporated in ice cream?!?!?!
There are some minor issues with making this gelato tough. I'm wondering if you have any tips, or that I just need to deal or buy a more expensive ice cream maker.
Usually when you pour ice cream into your ice cream maker for churning, you already have it moving, to prevent immediate frost on the sides and bottom. Now this base is so thick, with the beaten egg whites, the nuts and the custard, that there's no way you can pour it. You just have to scoop it in, which in my case, can't be done uless you take the lid off (or just add it a teaspoon at a time). The opening in my lid is just too small to spoon stuff in. And, as you understand, the churning stops as soon as you take the lid off.
Now I scooped my mix in as fast as I could and started churning as quickly as possible, but I still had some stuff frozen to the side. Also, this gets real thick and solid fairly quickly. Now I have no idea if this is normal, but my machine swiches sides once in a while. It'll start clockwise/counter clockwise and when it feels an obstruction (or without obstruction after an x amount of minutes) it will change directions. Now with the gelato getting firm and thick and solid so quickly, once it goes counter-clockwise it will actually push the lid out of the locked position and then push the lid off. This actually happened in about 10 to 15 minutes after I started churning. In other words, it freezes really really really quickly.
Not that I mind, hey, I have no problem recieving my ice cream a little quicker!!
The ice cream that immediately got stuck on the sides and bottom was still perfectly okay once I schooped it out. The only difference was that it was frozen a little more, like what will happen when you put it in the freezer.
All in all it was a giant success! Hazelnut (nocciola) has been my favorite flavor since I was a little kid, so I'm really really happy about this. Now tomorrow or so I will proceed with L's favorite – caffe!  (coffee)
[print_this]

Gelato alla nocciola (recipe makes about 1 quart)

2 cups (whipping) cream
1 cup hazelnuts
120 grams (caster) sugar
4 eggs
vanilla sugar

Start out by separating your eggs. You know the rules. Not a drop of yolk with the whites, so make sure you move your perfect whites to a clean container to avoid contaminating your whole batch if you screw up your last one)

Toast the hazelnuts if they haven't been peeled, do so after toasting, it'll be easier. In a food processor add the toasted nuts and a heaping teaspoon of vanilla sugar and grind the hazelnuts until they've become a fine meal (and still have a couple of chunkier bits in there).
Pour your cream into a small pan, add the hazelnuts and bring this to a boil. Once it's boiled take it off the heat and let it sit while you beat the egg yolks and sugar together to form a creamy, slightly foamy substance. Slowly pour the hazelnut-milk-mix into the yolks, while whisking feverishly. Pour the combined eggs and milk back into you pan and on very low heat, while constantly stirring, make a fairly thick custard.
Move your custard to a bowl and let it cool off completely. In the mean time beat your eggwhites very stiff.
Once the custard has fully cooled, fold it into the whites, add the mix to your ice cream maker and churn until it's all thick and firm and has become gelato.
Eat some right then and there and move the rest into a container and place in your freezer for future feasts!

[/print_this]
Would you like to get in touch, please don't hesitate to contact me via

my contact form.

Translate this blog

but don't expect it to make perfect sense!