Currently viewing the tag: "Pumpkin"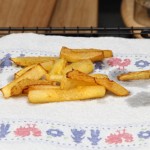 How do you test out brand new knives?
By cutting, obviously.
How do you get people to eat anything?
Fry it!
An apparently known Italian saying is 'Fritta è buona anche una ciabatta', Laurens' grandma used to tell him that. It means 'even a (house)slipper is [...]
Continue Reading

→
Would you like to get in touch, please don't hesitate to contact me via

my contact form.

Latest kitchen talk

Translate this blog

but don't expect it to make perfect sense!