It's amazing how used we get to unripe, not so fresh vegetables. Especially during the 'off-season' vegetables just aren't that great. And the old-fashioned produce stores seem to have disappeared.
Last summer, in Colorado, I went to a farmer's market. Everything was fresh and wonderful. It was a Sunday morning and I couldn't have been happier with the quality of all the foods that were for sale there. Not just the veggies, but also meats, breads, pasta. It was all amazing.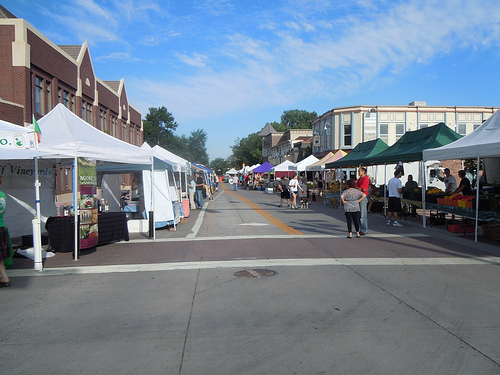 We do have farmer's markets (or at least something like that) in Amsterdam. However those markets either aren't in my neighborhood, or are on weekdays. Which is when I'm at the office and unable to go there.
When we moved to our new home, I was researching the area a bit. Since we're the last urban street and behind us there's either industry and the airport (a little ways back though!) or farmland. I read about a 'care farm' not even 5 minutes away from the house. Now this 'care farm' as they call it, is really a produce farm. It's run by a foundation that helps people with social/emotional or mental difficulties. A team of social workers/farmers guides the people who need some special care while they take care of the produce they grow. Everything they grow is fully certified organic and seasonal. They exchange some of their veggies for meat from a nearby organic farm.

They have a farm store. There they sell the produce they grew and some extra's. They sell the meat they'd exchanged (which is, like everything, subject to availability). On Saturdays an organic baker brings some bread, which they sell as well. They import a few things they can't really grow themselves, all organic.
I'd been meaning to check out the farm store. Last Sunday I finally did. And I wasn't disappointed.
The vegetables were all so fresh and ripe. Even though there isn't that much in season, they still had a nice selection and everything looked and felt good. Ripe and fresh. L actually mentioned we should eat the veggies quickly, because they were at their prime right when we bought them. I agreed, however, there's no way I'll cook up a weeks supply of veggies in one night. They deserve better. And since they're so fresh, they'll still be tasty in a couple of days.
I can't believe it took me so long to finally visit the farm store. Yummmm, fresh veggies! I love it!
Would you like to get in touch, please don't hesitate to contact me via

my contact form.

Latest kitchen talk

Translate this blog

but don't expect it to make perfect sense!