Currently viewing the tag: "Almonds"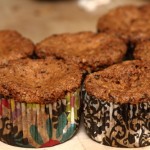 A little while ago I recieved an e-mail from a co-worker. She stated that another co-worker had presented her with a chocolate cake and she wanted to share it with the rest of the office. Being the nice person that I am, I was obviously willing to help her eat it.
When [...]
Continue Reading

→
Would you like to get in touch, please don't hesitate to contact me via

my contact form.

Latest kitchen talk

Translate this blog

but don't expect it to make perfect sense!