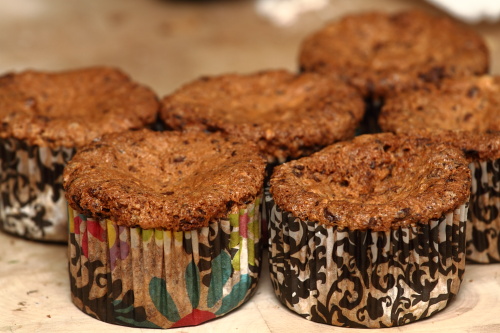 A little while ago I recieved an e-mail from a co-worker. She stated that another co-worker had presented her with a chocolate cake and she wanted to share it with the rest of the office. Being the nice person that I am, I was obviously willing to help her eat it.
When I saw the cake, I thought it was actually a brownie. I was pleasantly surprised when it wasn't. Not that I have anything against brownies – not at all. But this cake had a completely different, but very appealing structure. It was light and airy, slightly sticky, like the inside of an almost-baked meringue and it had a little bit of a grainy structure in it, which obviously came from nuts. It was delicious!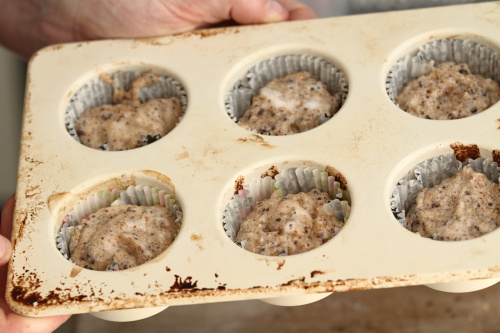 I walked up to the co-worker who had baked the cake to let her know how much I liked it and to see if I could convince her to give me the recipe. My co-worker informed me that it was an old family recipe and that if she'd give it to me, she'd have to kill me. the fact that I'm still alive, typing this up means that either she wasn't serious, or my pleading eyes work better than I ever imagined.
I will not give you her exact recipe. I told her I wouldn't. I will give you my adaptation of her recipe though. I made it into little cupcakes to take on a picnic. I altered the recipe to accomodate what I had in my pantry, and what I thought would be tasty. The result was a very very airy and light, but oh so delicious cake. They were very different from the cake I ate at the office -or any other cake I've ever baked –  but a nice addition to my repertoire.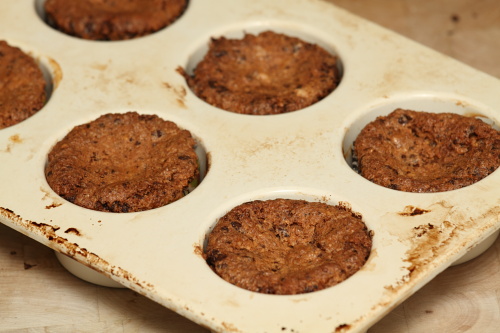 | | | |
| --- | --- | --- |
| Chocolate-Almond cupcakes | | |
Author:
Valerie van de Flier / Love through the stomach…
Ingredients
4 eggs (separated)
150 grams caster sugar
50 grams vanilla caster sugar (home-made)
100 grams ground/grated dark chocolate (good qual, not choc chips)
200 grams almonds, finely ground
1/4 – 1/2 tsp espresso powder
a good pinch ground chili flakes
2 tsp baking powder
non-stick spray and flour/breadcrumbs optional
Instructions
Separate your eggs, put 1 yolk aside for use in something else (or measure 3 yolks and 4 whites from liquid pasteurized eggs).
Mix 3 egg yolks and both sugars into a creamy mass. Add espresso powder and chili flakes, mix well, then add chocolate and almonds and mix well again.
Beat 4 egg whites to medium-stiff peaks. Add baking powder to almond/chocolate mixture, mix well, then carefully fold the egg whites into the chocolate/almond mixture.
Line a muffin tray with cupcake liners Fill the cupcake liners up to about 2/3 and place them in an oven (preheated to 375F).
The cupcakes will be done withen a skewer comes out fairly clean or they don't 'jiggle' anymore, about 25-30 minutes. The cakes will puff up and deflate (like a souffle), but they'll still be very airy on the inside after deflation.
Serve them with ganache, some whipped cream, berries or just as they are.
Notes
- If you don't have good quality real vanilla sugar, replace vanilla sugar with regular sugar and add a few drops vanilla extract to the batter.
- If you decide to make a cake out of it, make sure you use a large pan that's only filled about 1 to 1 1/2 inch high, this is a fairly low/flat cake.
- Coating the cupcake liners with butter/oil/non-stick pray and flour or breadcrumbs is optional. If you don't do this the liners will be a little harder to remove, but it still works. If you use a cake pan – even non-stick, make sure you do use buter and flour/breadcrubs to coat the pan, or you'll never be able to remove the cake in one piece.
- I encourage you to try this with different nuts or flavorings.
Would you like to get in touch, please don't hesitate to contact me via

my contact form.

Latest kitchen talk

Translate this blog

but don't expect it to make perfect sense!