Currently viewing the tag: "A new place to cook!"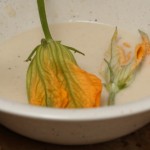 Fritta è buona anche una ciabatta. It's what Laurens always says whenever I debate frying something. His great-great grandmother used to say it and the saying went down many generations. It's an old Tuscan saying which translates to 'even a slipper is tasty when it's fried'. (Ciabatta, the bread, is named after [...]
Continue Reading

→
Would you like to get in touch, please don't hesitate to contact me via

my contact form.

Translate this blog

but don't expect it to make perfect sense!