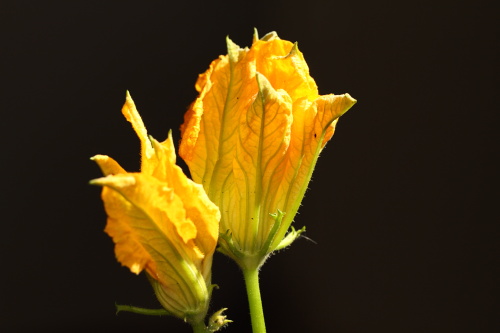 Fritta è buona anche una ciabatta. It's what Laurens always says whenever I debate frying something. His great-great grandmother used to say it and the saying went down many generations. It's an old Tuscan saying which translates to 'even a slipper is tasty when it's fried'. (Ciabatta, the bread, is named after slippers, so no, the saying doesn't talk about fried bread. Not that frying bread would necessarily be a bad thing.)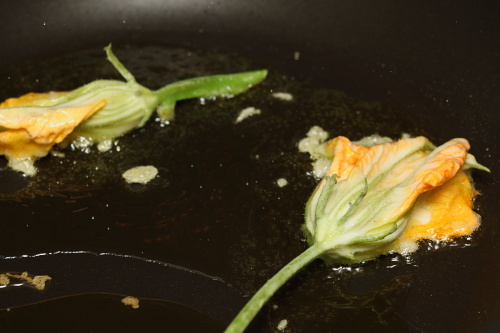 Since we moved to our new home, I started my little urban vegetable garden patch. I planted various sorts of tomatoes, bell and spicy peppers, eggplant, artichoke and zucchini. The zucchini and the tomatoes have since grown into a jungle and while the tomatoes are growing steadily, but are still green, the zucchini plants have started to supply us with a steady crop.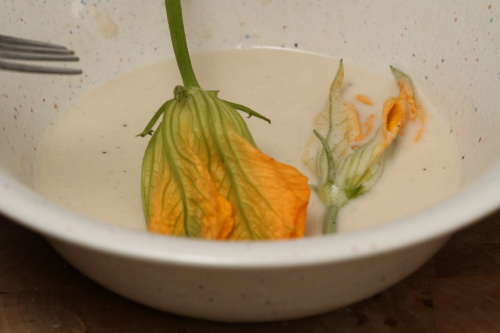 When the first zucchini started growing, I knew I had to try "fior di zucca", zucchini flowers. We researched which ones we should pick and when to pick them and ended up picking just 2 male zucchini flowers. (Had I known then that we would be hit by massive rain and no sun, I wouldn't have done that, because removing those blossoms, and not giving them the chance to pollinate more females, has definitely hurt out crop. That said, I'm still harvesting more zucchini than we can eat, so it's not really a problem.)
I had researched a multitude of recipes for zucchini flowers, but ended up choosing to go the simplest way and just batter them lightly and fry them in olive oil. I made a very thin batter of flour, salt and water and covered the zucchini blossoms in it. I fried them and we ate them. They were wonderful. Delicate, meaty flowers, beautiful light texture and taste. I liked them.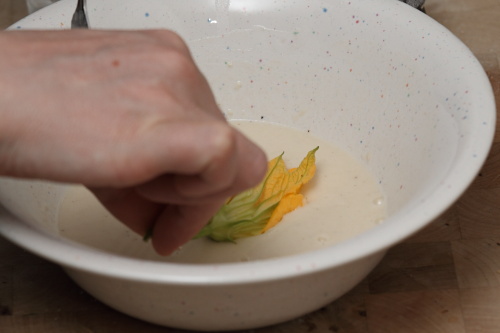 Laurens wasn't convinced though. He liked them, but seemed to recall that the fior di zucca that his nonna made when he was a kid had a thicker batter. He was convinced they could be improved and suggested adding egg the next time.
A week or two later we had friends come over for dinner. Since it was kind or a spur of the moment, last-minute-after-we'd-already-gotten-our-groceries thing, I had no options to make an extravagant feast. I decided on simple stuffed shells, made with ricotta, spinach and leftover chicken and figured that would fill us right up. When we went into the yard however, I did see a couple of zucchini flowers that had done their pollinator duties. So I picked them and a couple of baby zucchini and decided that would be an appetizer.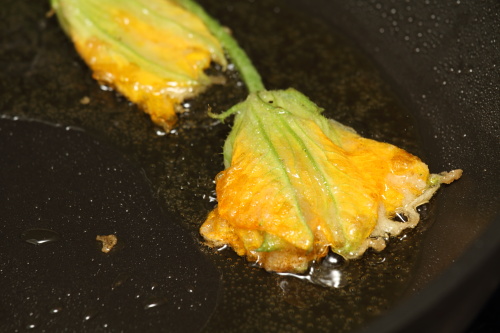 This second time around I made a thicker batter with an egg, a good amount of flour, salt, a little fresh cracked pepper and a couple of drops of water to make it liquid enough to coat the entire flower. I decided that indeed 'Fritta è buona anche una ciabatta' and sliced the baby zucchini into disks which I coated in the batter and fried as well.
The verdict: Wonderful!
Laurens was very pleased, this was exactly the way he recollected them from when Nonna made them in Tuscany. Our guests, who'd never had fior di zucca before enjoyed the delicacy and I was happy I cracked the code.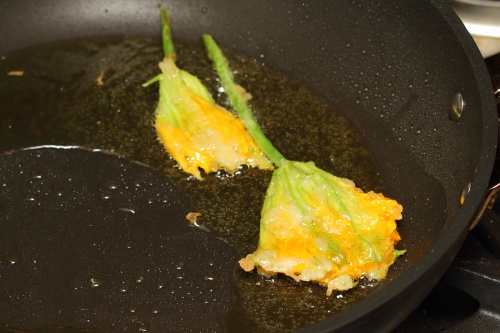 There are millions of options with fior di zucca. Stuffing them before frying (with endless options of stuffings), not frying them at all, using them in baking, eating them raw in a salad. And who knows. As our crop keeps growing, I might try more options. For now I'll stick with the Laurens-approved version. Because Nonna's Nonna was right, Fritta è buona anche una ciabatta!
Would you like to get in touch, please don't hesitate to contact me via

my contact form.

Translate this blog

but don't expect it to make perfect sense!