Currently viewing the tag: "Spring"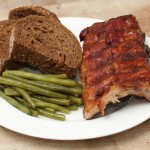 We'd bought cooked (oven roasted I think), marinated spare ribs from our local butcher a couple of times. They were great, very flavorful, which is why we kept buying them once in a while. Just reheating them in the oven was enough to have nicely flavored ribs on the table.
However, they weren't fall-of-the-bone-tender. They [...]
Continue Reading

→
Would you like to get in touch, please don't hesitate to contact me via

my contact form.

Latest kitchen talk

Translate this blog

but don't expect it to make perfect sense!