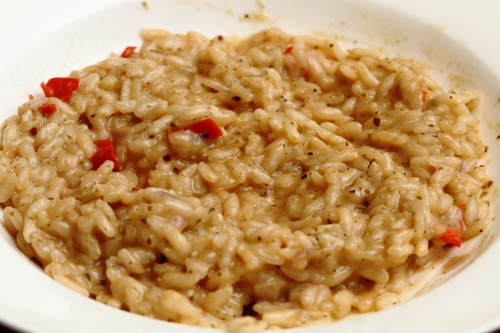 Risotto. I love the stuff. Creamy, lovely, perfectly al dente rice flavored with parmigiano cheese and whatever else you like. Not too heavy, not too many big ingredients – in texture as well as taste.
My favorite risotto has to be the yellow one, Risotto alla Milanese, but then again, that is the classic risotto if ever there was one.
Coming home one day, after work, it was hot and I hadn't bothered stopping by the grocery store. I had to just make dinner with what was in my cupboards. The arborio rice was screaming at me. Loud I might add.
I thought about it for a second and decided that the pepper I'd picked from my plant the other day would have to go in. I also had red onions. Red onions and red chili pepper as an additive, red risotto.
The risotto was tasty, very tasty. A little on the sharp side (that chili was hotter than I thought it'd be after cooking it in olive oil for a couple of minutes) but still creamy and full of flavor. I used a beef stock from a cube, some dried Italian herbs, I grated some fresh parmigiano and added a little notch of butter before serving. Yummm!
[print_this]
Ingredients
risotto rice (arborio preferred)
beef broth
red onion
red chili pepper (medium heat)
dried Italian herbs
grated parmigiano
a notch of butter
olive oil
Instructions
Finely chop the red onion and the pepper (1/2 onion and 1 small pepper per 2 servings). Drizzle some olive oil in a small pan and cook the onions until they're glassy, then add the pepper and the rice. Stir regularly.
When the rice is glassy, start adding the broth, a ladle at a time. Once the broth has been absorbed by the rice, you add a next ladle full. After about 3 or 4 ladles full of broth, add Italian herbs to taste. Keep adding broth until the absorbtion starts to slow down. From that moment start tasting.
As soon as the grains of rice are cooked al dente,take the pan off the heat and add a good amount of parmigiano and a notch of butter. Stir and serve immediately.
Notes
Take a good handful of risotto rice per person and adjust all the other amounts to the amount of risotto you're making. Risotto is served as a (small) first course.
[/print_this]
Would you like to get in touch, please don't hesitate to contact me via

my contact form.

Latest kitchen talk

Translate this blog

but don't expect it to make perfect sense!