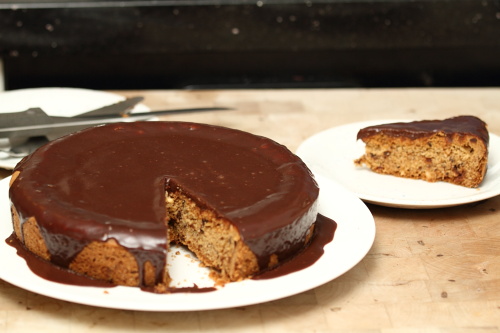 For as long as I can remember I've helped my mother bake. I must've been 4 or 5 when I first recall standing on a kitchen stool and mixing butter, sugar eggs and flour to make a cake. The best part of "helping" my mom make cakes, was licking the spoon, and the bowl, after the batter was poured into the pan.
I never had the patience to wait for a cake to be completely cooled. And honestly, I liked her cakes better when they were still slightly warm. Even though my mom told me not to cut the cake before it had cooled, I could hardly ever hold myself back.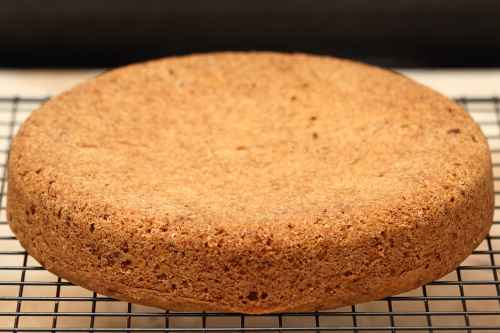 I'd guess I was about 8 or 9 when I baked my first cake on my own. Using my mother's trusted recipe for cake (equal parts flour, sugar and butter and a number of eggs and flavoring) I really didn't need her help anymore.
My mom's cake recipe was probably the only recipe I used until I moved out. The only other recipes I knew existed, were my friends' mothers' cakes that were made from a boxed mix.
In the years since I've moved out from my mother's house, I've experimented with many many more recipes. Some have worked, and some have failed. Most of them have been recipes I found online and altered. Some were written down on envelopes, or scraps of paper. I don't know the origin of most of my cake recipes, but I know exactly which ones I like, and which ones need some improvements.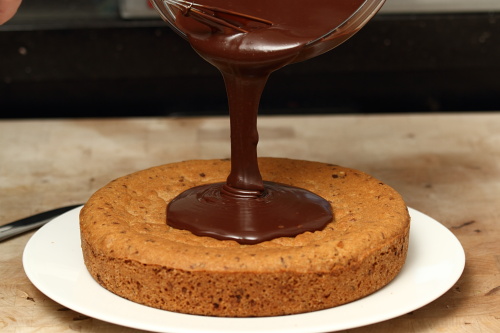 The second time I met (and went to visit) Laurens' parents was quite a while ago, but I still recall the cake I brought. Laurens had failed to inform/ask his parents about us visiting, so he called the evening before we planned to go. His mom was happy about having us over, but told him 'I don't even have a cake to serve you'. After the phone call I asked what was up (my understanding of Italian back then was worse than the despicable state it's in now) and he laughed and mentioned the cake.
I went to rummage in our kitchen to see what ingredients I had available. I proceeded to google 'chocolate hazelnut cake' and found a plethora of recipes.
The recipe I chose was easy enough to make and seemed tasty. The next morning, before we left for the in-laws, I baked a cake.
The cake turned out to be wonderful. The ground hazelnuts in combination with the almond extract and chocolate gave it something different. The cake in itself was full in taste and moist. My in-laws were at first confused about me bringing a cake – hey, they hadn't gotten used to my food obsession back then – but very enthusiastic once they tasted it.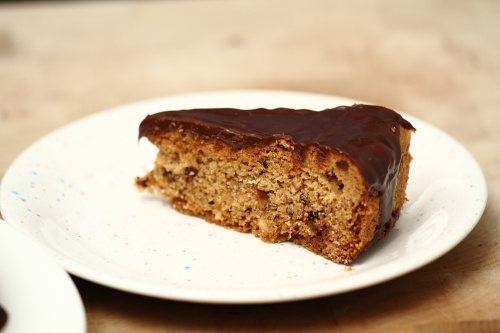 Since that date, I've brought them more goodies. They don't look all that surprised anymore when, instead of flowers, I present them with something I've prepared myself.
Recently I remembered that cake. I hadn't made it since that first time, but I had all the ingredients and a free hour on my hands. The cake was still wonderful.
| | | |
| --- | --- | --- |
| Hazelnut and chocolate cake | | |
Ingredients
115 grams (1/2 cup) butter softened
3/4 c sugar
2 eggs
1/4 tsp almond extract
1 c AP flour
1 1/2 tsp baking powder
1/2 c ground hazelnuts
50 grams grated dark chocolate (or 1/4 cup grated dark chocolate chips)
ganache or melted milk chocolate for glazing or filling
Instructions
Cream butter and sugarand beat in eggs and almond extract. Sift flour and baking powder together and add a little at a time while beating at low-medium speed (Slow enough to ensure the flour won't start flying around). Grind hazelnut in a food grinder and grate the chocolate (I use my fabulous KitchenAid attachments) and stir it into the cake batter until well combined.
Pour the batter in a well greased medium-sized cake pan. Bake in a pre-heated oven at 350 F for 30-35 minutes (or until a skewer test comes out clean – if it's only melted chocolate on your skewer, you're okay!) Cool the cake in the pan for about 10 minutes then remove it from the pan and let it cool completely on a cooling rack.
Once the cake is cooled either split it in two and fill with ganache, or pour ganache over the cake for extra chocolateness. Just melting some milk chocolate and drizzling it over works out fine as well!
Serve as is, or with a real vanilla bean, custard based ice cream, or slightly sweetened whipped cream.
As always – if you're certain you know who's/which recipe I wrote down that fateful day, please let me know so I can credit them appropriately!
Would you like to get in touch, please don't hesitate to contact me via

my contact form.

Latest kitchen talk

Translate this blog

but don't expect it to make perfect sense!