Recipe exchange

I participate in a recipe exchange once in a while. It's good. I get to try completely new recipes. Things I'd never thought of making before. The theme for the exchange this time was Mexican food. I love Mexican food. Loved it since I first ate at Rose's Cantina and  loved it even more since the first time I had Mexican food in Colorado. Now Rose's Cantina still exchanged, but they've changed their menu and turned terrible, so while in Amsterdam I have to resort to making my own. A new recipe, therefor, is always welcome!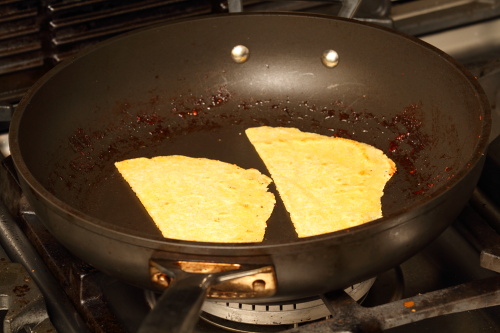 The recipe I received was Sweet Beginning's Enchilada Lasagne. It's cheesy goodness with turkey and taco sauce layered with corn tortillas. I was in for quite the challenge. The recipe called for grated cheddar or mexican mix, for corn tortillas, for low-sodium cottage cheese, ground turkey and taco sauce. Now the only cheddar I can get here is real, English cheddar. The actual good non-plastic cheese. Mexican mix doesn't exist – we're in the land of real (farm) cheeses, 'cheese product' is not allowed to call itself cheese. Taco sauce and chunky salsa are the same things, low sodium cottage cheese is nonexistent (cottage cheese itself can be hard to find). Now I can grind my own turkey and figure out the rest, but the biggest issue were the corn tortillas.
The only tortillas I can get here are crappy flour tortillas and masa harina is another thing not sold here, so making my own corn tortilla's was proving to be difficult as well. I wasn't about to give up on trying this delicious sounding casserole. Fortunately I found Hillbilly Housewife's cornmeal tortilla recipe. With that on hand I was good to go!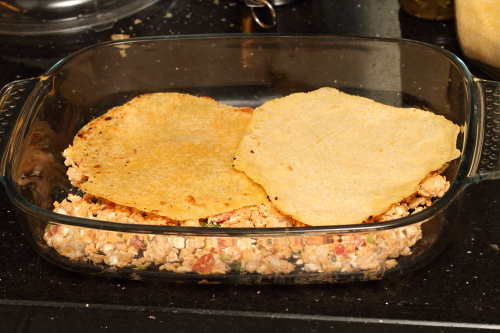 I replaced the canned tomatoes in the recipe with fresh ones to counter the fully salt cottage cheese I did find. I mixed a well melting grated Dutch cheese with some mild English cheddar which I grated myself. I ground the turkey, and I used the chunky salsa instead of the taco sauce. And I made the tortillas.
Besides making the tortillas, which took way too much time to fry them all, the recipe was super easy. It was different from anything I'd made or had in quite some time, but different in a very good way. It was extremely tasty and will definitely make it again. I might wait until I get someone to bring me corn tortillas from the US though!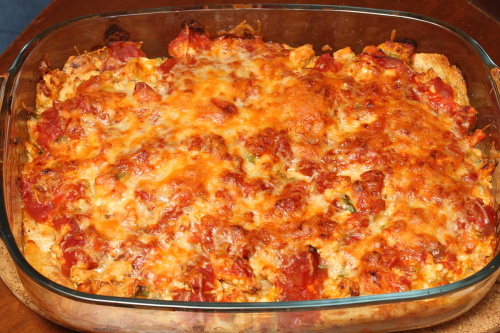 Ingredients
1 lb ground turkey breast
1 ½ cups reduced-fat Mexican-blend or Cheddar cheese
1 cup canned, diced tomatoes, drained
1 cup low-fat, low-sodium cottage cheese
cup canned jalapeno peppers, diced
cup scallions, chopped
2 tsp chili powder
2 cloves garlic, chopped
9 – 6" corn tortillas
1 cup taco sauce
Instructions
Heat oven to 375 degrees.
Brown the turkey in a skillet over medium-high heat. Let the turkey cool and then mix with 1 cup of the cheese, tomatoes, cottage cheese, peppers, scallions, chili powder & garlic, stirring well.
Coat 9 x 9 baking dish with cooking spray. Place 3 tortillas in the bottom of the dish and top with half of the turkey mixture. Layer 3 more tortillas, the remaining turkey mixture and the last 3 tortillas. Pour taco sauce over the last layer of tortillas and sprinkle with remaining ½ cup of cheese. Bake for 20 minutes.
Notes
I copied the recipe exactly as it is on Sweet Beginnings. I obviously tweaked a lot to be able to make it at all in the Netherlands. But since most of my readers are in the US, I figured my tweaks weren't that useful for you. If you're interested in the tweaks, make sure you comment or send me a message.
Would you like to get in touch, please don't hesitate to contact me via

my contact form.

Translate this blog

but don't expect it to make perfect sense!