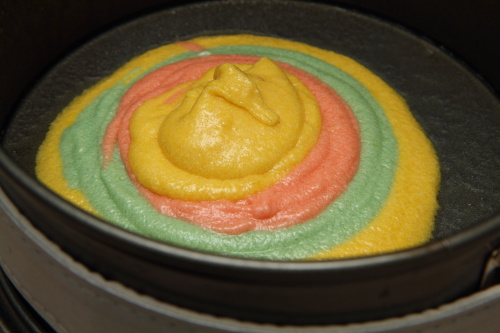 Sometimes you need not only tasty, but fun food as well. That's how I felt when I decided to make a super psychedelic cake. Layers of different colors, circling eachother in thin strips. It sounded fun. It sounded like a little girl's dream cake, if only I would make it pink and purple and red. Or at least to me it sounded like a dream.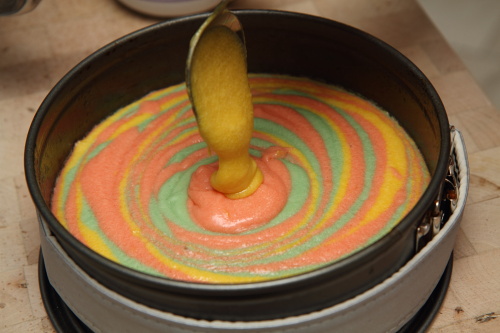 I didn't color my layers pink and purple and red. I used yellow, red and teal to dye my batter. I didn't use too much coloring, so they were a little on the pastel side, but still vibrant, distinctly different colors.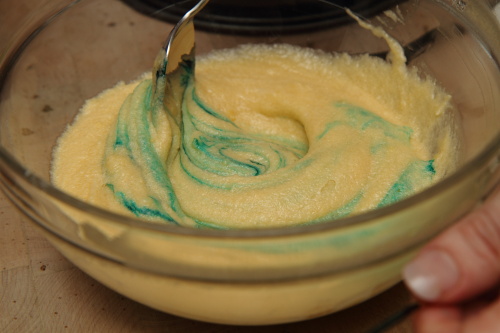 I had made colored cakes before, always a big success. The red and black or green and orange cakes of before were requested many a time for birthday parties of friends. They were fun!
I looked up a recipe for a cake I thought would be tasty. Before I'd always just made pound cakes into colored cakes. Sometimes filled with some nuts, but still, pound cake. My standard pound cake recipe is actually a fairly dry one. A heavy, dense cake, perfect with a dollop of whipped or ice cream. I didn't need some fancy cake, I jsut wanted something a little lighter and fluffier. Something you would serve without embellishments, so you could see the nice colored texture.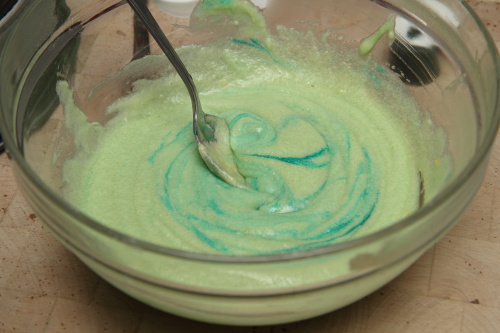 The yellow pound cake recipe I found sounded promising. Then I altered it and it sounded perfect. Truth be told, the cake I baked was indeed awesome. The texture, the moisture, it was really really good.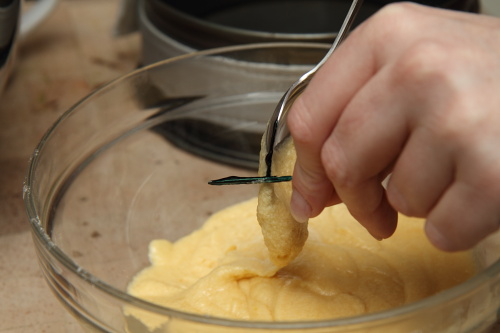 I made the batter, divided it into 3 bowls and dyed it. Using 3 standard soup spoons I put the batter in the springform a little at a time. One drop on top of the other. The way you'd make a zebra cake. Obviously the batter moved around and so did I and the end was something that looked very psychedelic. Very fun. A cake too good to eat, even.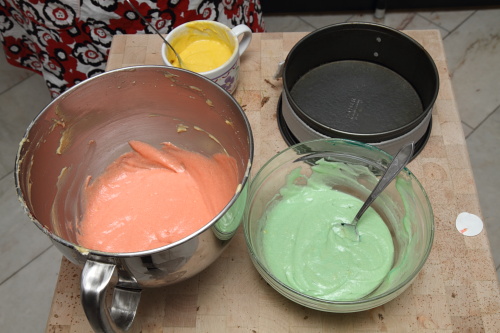 I put the pan in the oven and guesstimated the baking time. About 10 minutes in I figured I'd give the cake a look, to see if my guesstimation needed to be altered. To my horror a lot of batter had seeped out of my springform pan. Now I've been baking in springforms for a long time. I just prefer them to regular cake pans for ease of removal. This pan had never really leaked. Maybe one or 2 drops, but never a full on leak. I've put thinner batters than the one I used in there too, so I guess it's time to send this springform to springform heaven.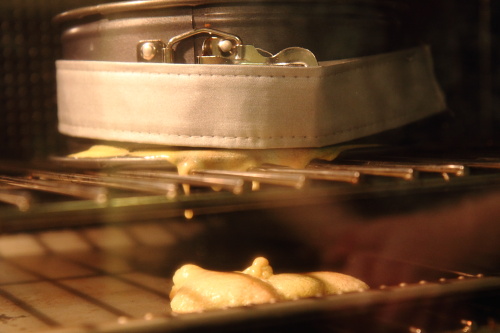 Back to the story though, my guesstimation seamed about right and by the time I went to check it needed no more than 5 minutes longer to finish cooking.
Oooooh, the anticipation. I could hardly wait. Under the fairly dark brown crust a multitude of colors would be waiting for me.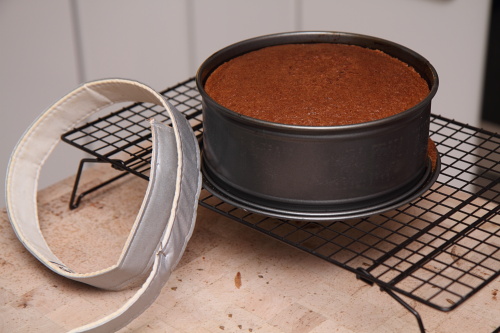 While the cake was cooking down I quickly made a simple lemon syrup to pour over the cake and give it some extra zing. Once cool enough I removed the cake from it's pan, poured the syrup over and sliced it.
Disappointment sunk in. Where were my pretty colors. The multicolored psychedelic lines that took me 15 minutes to pour into my 8 inch pan? They weren't there. The yellow at the top of the cake, was normal yellow pound-cake-color, coming from the many eggs in the recipe. The green that had sunk to the bottom wasn't visible until I held the cake in direct light, and was a completely different color than the teal that went in. The reddish pink, where was it? It wasn't to be seen anywhere.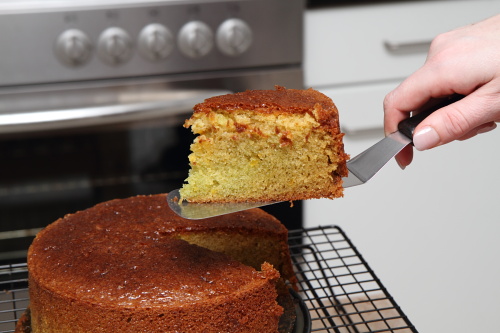 Conclusion of this sad, sad story. Not every type of batter is suitable for dyeing. And maybe the icing gel colors aren't the most suitable for this kind of project. Ither way, doing this project was fun and the outcome was disappointing. I guess this just means that I'll have to try again with different food coloring or a different recipe.
Fortunately the cake itself turned out awesome. It was the moistest, most airy, fluffy, flaborful cake I've eaten in a long, long time, maybe ever. It was wonderful on its own, but would also be really good for torting, filling and icing.
Lemon pound cake

1-1/3 cups white sugar
1 cup butter
4 eggs
1/3 cup milk
1/2 teaspoon
zest of 1/2 a lemon
juice from 1/2 lemon (my lemon was fairy small!)
1-3/4 cups cake flour
1 tsp baking powder
1/4 tsp baking soda

Cream butter and sugar, add lemon zest, lemon juice and eggs and beat until it's a very thin, but light and fluffy mixture. Sift cake flour and baking powder and baking soda together and add about half of it, beat, then add milk and other half of flour mixture. Beat again. The batter will be pretty runny. Bake at 175 C (350 F) for about 50 to 60 minutes (start checking for done-ness at about 50 minutes.)
To give it some extra zing, I made a very simple syrup of lemon juice and sugar and poured that over the cake once it was cool enough to remove from the pan. It doesn't really need that though, it's good by itself.
As said, I baked it in a springform (8 inch) with a bake even strip around it. Due to the runny batter and the fact that a lot of springforms do leak, I'd suggest a regular cake pan for this batter (A fairly high one though, this yields a high cake!)
Would you like to get in touch, please don't hesitate to contact me via

my contact form.

Translate this blog

but don't expect it to make perfect sense!