Our grocery store had the strange idea to make a bunch of leeks the same price as 1 single trimmed leek. So I bought a big bunch of them. The result, adding leeks to many dishes.
I already wrote about my Chicken and Leeks and Dumplings. After that dish, I wasn't through the leeks yet. The cold dreary weather of late, has had me craving potato dishes, so I decided on potato soup. Potato soup with rivels, with leeks.
I ate potato soup for the first time as a pre-teen. My dad had eaten it at my stepmom's and then proceeded to make it for us, the next time we came over. (My parents were divorced, we spent every other weekend with my dad, and he was married to my stepmom, but he still lived in Europe and she in the US.)
I recall my dad being amazed with this soup. It was so simple, so basic, yet so tasty. We agreed. It was basically thin mashed potatoes loaded with bacon and cheese and scallions and such. It tasted great!
The years had passed and I'd made potato soup once in a while myself. I made alterations to the soup and at some point I just lost control of the original recipe. I didn't have it anymore, couldn't find it, didn't remember it.
I called my stepmom and she promptly gave it to me and added a cookbook to my Christmas Stocking that year. A collection of recipes from people who have a link with adoption. My stepmom added, among other things, the recipe for potato soup.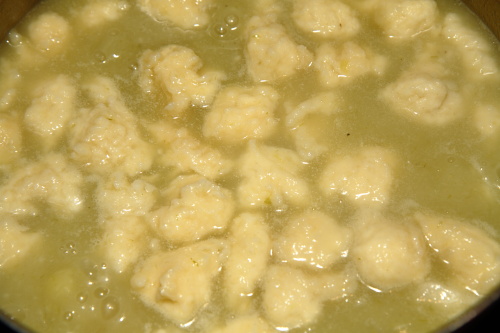 When I read the book I noticed that my dad had omitted one vital ingredient in the version of the soup he'd given my brother and me some 20 years earlier. He hadn't made rivels.
Seeing that I like starchy foods anyways, I figured trying to add rivels wouldn't be a bad thing. I wasn't entirely sure, as it changed the soup, but hey, live adventurously and give things a try, right?!
The soup made with rivels was wonderful. It added a whole extra layer of flavour and texture to the soup. I've never made potato soup without it after that.
The only alterations I've made to the recipe in the book (sorry Dixie, sorry grandma Julia) was the order in which you add things and do things. The recipe calls for dropping in rivels and after that mashing your potatoes and trying to avoid mashing rivels. That just really doesn't work too well. Once the soup gets cloudy (and yummy) there's no way to distinguish rivels from unmashed potatoes. So I changed the order. First purée, then add rivels. I also add a bouillon cube to the water I boil the potatoes in, instead of using salt. Besides that, the recipe is perfect the way it is.
Having said that. Obviously I alter things, add things, do things. I had a piece of ham (bone in) hanging out in my fridge. I had a bunch of leeks. I figured, why not.
The pictures you see here, are pictures of the newest version of this magical potato soup. I first simmered the piece of ham in  a big stockpot to make a sort of ham broth. After removing the ham I proceeded with the regular recipe, only adding in a whole leek, chopped. I cut up the meat on the ham and after puréeing not only the potatoes, but the leeks as well (with an immersion blender, sorry, I'm lazy that way!). Then in addition to the rivels, I added the pieces of ham.
A great adjustment, if I might say so. Leeks and potato just work really well together.
For now however, I will give you the base recipe. The one I found in my stepmom's cookbook. Enjoy!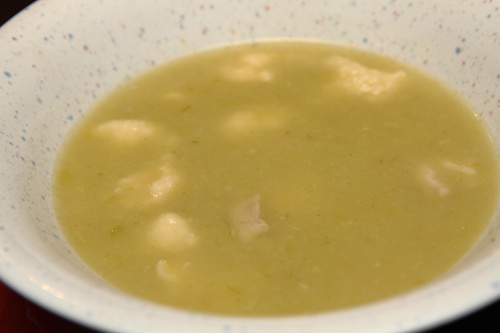 Grandma Julia's potato soup with rivels

4 cups potatoes, diced
salt
pepper
parsley flakes
1/2 onion, diced
1 tbsp butter
2 eggs, beaten slightly
1 cup flour
1/2 tsp baking powder
2 cups milk
water
bouillion cube (my personal addition to grandmas recipe)

Place diced potatoes in a large kettle, cover with water and add salt or a bouillion cube to taste. Cook 10 minutes or until potatoes are tender. Mash them up, add pepper, butter parsley flakes and onion.

Make rivels by beating the eggs, adding 1/2 tsp salt and mixing in the flour and baking powder. Drop into soup by the spoonful. Stir, cover and cook for 10 more minutes. Add 2 cups of milk. Thicken as needed by adding a thickening of 1/2 c of milk mixed with 1 or 2 tbsp of flour.
Would you like to get in touch, please don't hesitate to contact me via

my contact form.

Latest kitchen talk

Translate this blog

but don't expect it to make perfect sense!