The first time I ever made chicken and dumplings, was a total disaster. I mean, complete, utter, insane bad, terrible, icky goo. I'd used a recipe I found online and the explanation was just terrible. At least for someone who'd never made it before. The dumplings just fell apart and became gooey and gluey in the pot, the vegetables were way overcooked and bland. It was a horrific sight.
I called my friend Amber, devastated. Waht did I do wrong? The answer was, obviously, I didn't ask for her recipe and explanation of the process.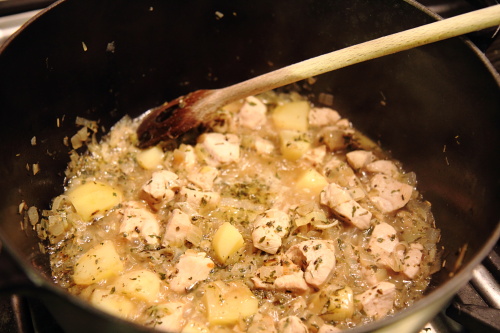 A few years have gone by since that fateful day with the terrible food. I've made chicken and dumplings from Ambers recipe many times, with great succes. I added her mom's chicken and dumpling soup recipe to the repertoire as well with much succes. And this year I finally got to feeling confident enough with the recipe to alter it and make it to an entirely different tasting dish.
Amber's recipe is very forgiving, I've found. Right from the first time I made it, to the first time I made something else, the dumplings have never failed to puff up and be tender and wonderful. The stew-like consistency of the base can be flavored in many ways. And the vegetables you add can go from the standard onion, celery, peas, carrots and potatoes to any vegetable you like, exotic or local.
The only thing I haven't altered (yet) is the chicken and garlic. And really, why would you necessarily want to change that. Many or most savory dishes just taste better with garlic. It's true, don't even try to deny it. And well, chicken and dumplings without chicken would just be silly, right?
The pictures shown here are leek and chicken with dumplings. This worked very well. I just cooked the chicken and sweated the leek (and garlic) in my nice big Le Creuset Dutch Oven. I did add 2 tiny potatoes in little pieces, because I wanted to use them up. I added herbs I like with leek (marjoram, rosemary, thyme). I added a can of cream of chicken soup, which I needed to use up anyways, and right before adding the dumplings, I threw in a bunch of frozen peas. I made my dumplings with garlic oil instead of regular oil, and that added a whole different dimension to the dish.
So we ate chicken and dumplings that night and it tasted completely different from the normal dish. Not beter, not worse, just a different dish from the same basic recipe. I'm thinking a pumpkin version would be wonderful as well, this season. Or maybe a pepper, corn, kidney-bean version, with a Mexican twist.
So hereby I give you Amber's recipe. Try it, eat it, enjoy it, and alter it where you see fit. It's the perfect winter food!
Thanks Amber, for your wonderful recipe!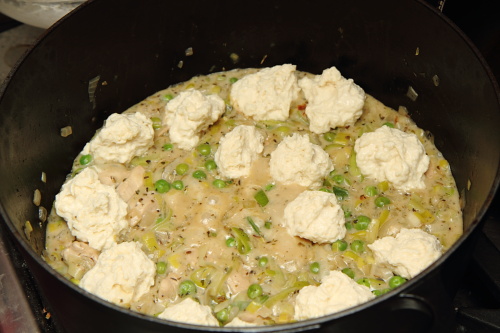 Amber's chicken and dumplings (recipe feeds 4 with some leftovers)

1/2 stick butter
2 onions, cut up
lots of garlic
1 or 2 chicken breasts (depends on size and your hunger for chicken) cut into smallish pieces
5 or 6 carrots, cut into stew sized chunks
2 small potatoes , cut into stew sized chunks
3 or 4 stalks of celery, cut up
1 bay leaf

Saute everything in butter until the chicken is cooked. Add some water and a bay leaf to cook the potatoes.

1 can cream of something soup
milk

Add the can of soup and add milk until you barely cover everything.

1 to 2 cups of frozen peas (and carrots)
sage, thyme, rosemary, parsley, pepper and salt

Add the frozen peas (And carrots and seasonings (choose whichever ones you like, I like the ones mentioned above. Let everything stew while preparing dumplings.

1.5 cup white flour
3 tsp baking powder
1 scant tsp salt
3/4 cup of milk
3 tbsp vegetable oil

Mix dry ingredients in a bowl, make a dip in the middle and pour milk and oil in. Stir until you have a nice sticky mixture.

Make dumplings using 2 spoons and drop them on top of the stew. Cover the pan tightly and don't peek for 15 to 20 minutes. (It needs to simmer, really really low! Use a simmer pad if needed to prevent burning). Stir cooked dumplings into stew and serve hot.
Would you like to get in touch, please don't hesitate to contact me via

my contact form.

Latest kitchen talk

Translate this blog

but don't expect it to make perfect sense!